Mutton Brain Masala is a popular South Indian delicacy.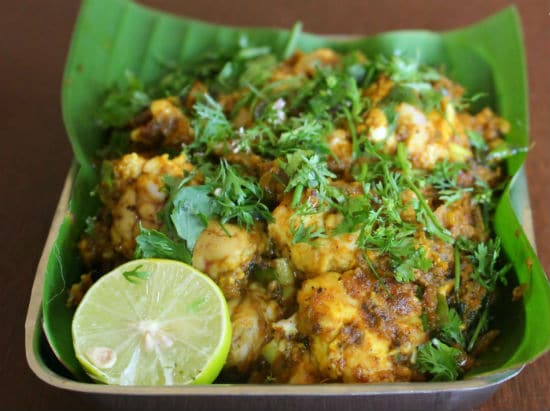 Ingredients:
Goat Brain – 4
Shallots (Sambar Onions) – 20, chopped
Tomatoes – 2, chopped
Green Chillies – 4, chopped
Ginger Garlic Paste – 2 tsp
Red Chilli Powder – 4 tsp
Pepper Powder – 1/2 tsp
Turmeric Powder – 1/4 tsp
Coriander Leaves – handful
Curry Leaves – handful
Saunf – 1 tsp
Oil – 4 tsp
Salt as per taste
Method:
1. Clean the mutton brains and transfer to a bowl.
2. Add salt and turmeric powder.
3. Keep aside for a minute and cook until done.
4. Then chop them into pieces.
5. Heat oil in a pan over medium flame.
6. Fry the saunf and curry leaves for 10 seconds.
7. Add onions, green chillies, ginger garlic paste and saute for a minute or two.
8. Add tomatoes, turmeric powder, pepper powder, red chilli powder and mix well.
9. Add salt and enough water.
10. Simmer for a few minutes.
11. When the water has almost evaporated, add the cooked brains and stir gently.
12. Garnish with coriander leaves.
13. Serve.
image via youtube