Mirchi ka Salan is a popular Hyderabadi dish served as a side dish to biryanis and pulaos.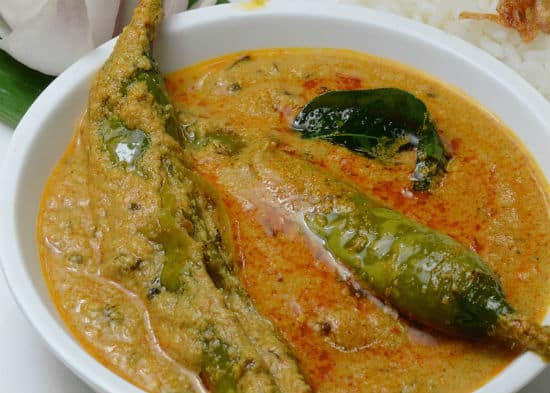 Ingredients:
Green Chillies – 200 gms, large, slit lengthwise, deseeded
Tamarind – 4 tbsp, soaked in warm Water
Coconut – 1/4 cup, grated
Groundnuts – 1/4 cup
Sesame Seeds – 1/4 cup
Coriander Seeds – 4 tsp, roasted
Cumin Powder – 4 tsp
Red Chilli Powder – 2 1/2 tsp
Turmeric Powder – 1 tsp
Salt to Taste
onion Paste – 1 kg, browned
Ginger Paste – 1 tbsp
Garlic Paste – 1 tbsp
Vegetbale Oil – 2 1/2 cups
Mustard Seeds – 1 tsp
Onion Seeds – 1 tsp
Curry Leaves – 20
Cumin Seeds – 2 tsp
Method:
1. Squeeze out the water from the tamarind and retain the pulp.
2. Broil the coconut, groundnuts, and sesame seeds.
3. Grind to a fine paste.
4. Mix in the coriander seeds, cumin powder, red chilli powder, turmeric powder, salt, browned onion paste, ginger and garlic pastes.
5. Fill this prepared paste into the slit green chillies. Keep aside.
6. Heat the oil in a kadai.
7. Fry the stuffed green chillies to a golden brown.
8. Remove with a slotted spoon and drain the excess oil on absorbent kitchen towels. Keep aside.
9. In the same oil, saute the mustard seeds, onion seeds, curry leaves and cumin seeds.
10. Stir in the leftover ground paste and the tamarind pulp.
11. Cook on low heat for 10 minutes.
12. Add the fried green chillies and simmer for another 10 minutes.
13. Serve hot.