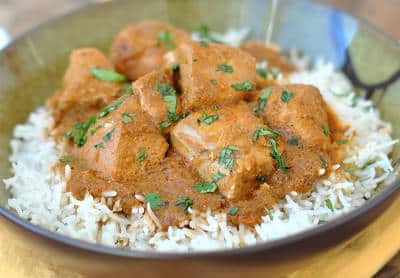 Ingredients:
Chicken Drumsticks – 3 to 4 (depending on size), cleaned, washed
Onion – 1, small, sliced
Garlic – 1 clove, minced
Ginger – 1/2 inch piece, peeled, minced
Curry Powder – 1 1/2 to 2 tblsp
Cumin Powder – 1/2 tsp
Red Chilli Powder – 1/4 tsp (or as per taste)
Tomatoes – 200 gms, chopped
Coconut MIlk – 225 to 250 ml, thin
Green Peas – 1/2 cup
Coriander Leaves – 2 tblsp, finely chopped
Oil as required
Salt as per taste
Method:
1. Sprinkle little salt on the chicken and place them on a plate.
2. Heat little oil in a nonstick pan over medium flame.
3. Fry the chicken pieces, in batches, till browned evenly (about 5 minutes).
4. Remove and transfer to a plate.
5. Add onion, garlic and ginger to the pan.
6. Stir-fry for 2 minutes.
7. Add the cumin powder, red chilli powder, curry powder and little salt.
8. Cook for 20 to 30 seconds.
9. Add the tomatoes and the coconut milk.
10. Mix well and gently bring to a boil.
11. Add the chicken pieces to the pan.
12. Reduce flame and simmer for 30 to 40 minutes.
13. Add the peas and coriander leaves.
14. Cook for another 5 minutes or until the peas becomes tender.
15. Switch off the flame and transfer to a serving bowl.
16. Serve hot with rice or pulao.
Tip: Adjust the curry powder as per taste and depending on the level of spiciness required.