We are counting the last few days of the cosy winter months and are all set to embrace the warmth, colour and glee of spring. Regardless of being excited or dreading the sweaty months; one thing we are all eagerly waiting for is – Holi – the festival of colours. Who would have thought getting drenched in the shower of colours would be so much fun? We can talk at length about the significance of this day that marks the emergence of spring, manifests the victory of good over evil and mends broken bonds. But who are we kidding? All of us are waiting to play with colours and gobble up the inviting holi delicacies. Just like any other Indian festival, holi too has its range of refreshing drinks, mouth watering sweets and the scrumptious chaats that people indulge on whilst dancing around in mirth.
Here are some insanely delicious recipes you wouldn't want to miss out this holi.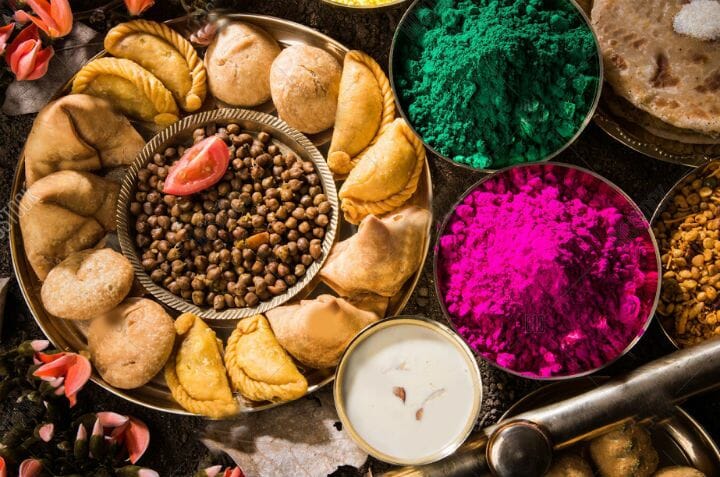 This soft flat bread surprises you with a sweet stuffing that melts in your mouth. Puran is a stuffing made of lentils, jaggery and ghee that's evenly coated inside the bread. The fluffiness of the bread, the sweet aroma of cardamom mingles with the lentils, making this a wholesome snack and we needn't say more as to why this is everyone's favourite. Grab it right from the griddle and don't forget to top it with a drizzle of ghee before having them.
With colours and festivity in the air, a dash of bhang makes it exhilarating right? That too giving a fun twist to the crispy pakoras undoubtedly makes this holi's speciality. These crispy fritters are made with gram flour and spinach with aromatic Indian spices. This is a great option if you aren't a big fan of bhang drinks. These fritters are sure to intoxicate you with their exotic flavours even without the addition of bhang.
The luscious flavour of this drink is in complete contrast with its simple outlook. The thick creamy milk along with the goodness of dry fruits and spices cools down your body during the hot months. Befriend this holi staple to beat the heat during the summer months. Moreover, the deliciousness of this drink will leave you asking for more.
This deep fried tangy snack gives the versatility of potato a whole new flavour. You are bound to experience a whole range of flavours. This tastes fantastic all by itself or is used in chaats and sandwiches to give the dishes a unique touch. A mouthful of bhujias and a steaming cup of chai make for an ideal pair. The addictive flavour of bhujias will make them a regular snacking option.
We can't miss our favourite golgappas on this special day, can we? These crunchy puris are a treat to sweet lovers as well as for those who want a bit of spice in whatever they eat; as they come with sweet as well spicy juices in which you can dunk your puris into. The cold pani mixed with a comforting potato filling plays a yummy game with your taste buds. Drinking the tangy pani with these crunchy golgappas while being completely drenched in colours is pure ecstasy isn't it?
You are sure to binge on every sweet available on this day that leaves you asking for something salty. These salty crackers come to rescue your cloying taste buds. A handful of this namkeen adjusts the flavour in your mouth, preparing you to dig on to some more dessert. Besides that, no one's ever hesitant to toss a mouthful of this simple, yet tasty snack.
It's not new for anyone to plunge on to the inviting platter of delish food that might leave your stomach feeling funny later. But why worry when there is a tangy medicine that tastes nothing but heavenly? A glass of jaljeera is a daily beverage during the summer months to quench your thirst and calm your body. The amalgamation of spices, crushed cumin seeds, soothing mint leaves a dash of lemon and flavoured salts whisked in a tall glass cleanses your digestive system. So, don't forget to add this to your holi menu to banish the unpleasant circumstances after a sumptuous treat.
Kachori channa
How can we miss crispy kachori on holi? Thick crispy, fried bread stuffed with a generous amount of your favourite lentils or vegetables is definitely a filling dish to munch on. Pairing this golden beauty with a hot tangy bowl of chickpeas smothered in mint and tamarind sauce tastes fantastic. Break your kachori and pour in the channa and enjoy the new flavour of kachoris drenched in the masala.
These sweet balls made of gram flour, smeared with generous amount of ghee is a simple, yet a lip smacking sweet. The nuts tossed into the ladoos gives a crunchy and flavourful experience. Loaded with goodness, this can be a healthy dessert option for those who pay close attention to their health.
This is heaven in a stick. The creaminess of milk and crunchiness of nuts easily wins everyone's heart. This doesn't just taste good, but is loaded with nutrition as well. Those of you who do not like the taste of Thandai can sip on to a cold bar of khulfi. You can also add bhang to your khulfis and elevate your mood the sweet way.
Apart from adding colours to your life, try these recipes and add a bit of flavour and spice too!