Pancakes are a great way to start your day and is one of the easiest/popular breakfast dishes to make. Light and fluffy, serve this with a topping of choice – some of the popular toppings include maple syrup, chocolate sauce, sugar, jam, cream, banana and more.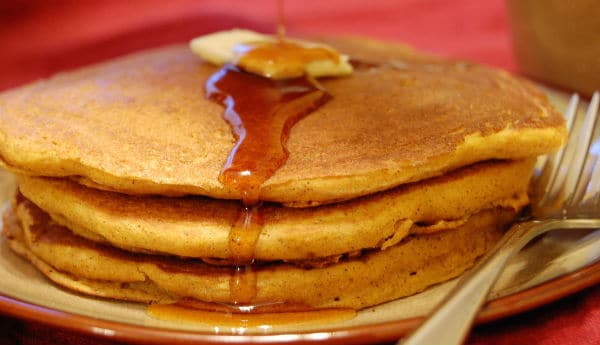 Ingredients:
Pumpkin Puree – 1/4 cup
Milk – 1/4 cup
Butter – 1/2 tblsp, melted
Sugar – 1/2 tblsp
Beaten Egg – 3 tsp
Plain Flour – 1/4 cup
Baking Powder – 1/2 tsp
Nutmeg Powder – a small pinch
Cinnamon Powder – a pinch
Ginger Powder – a pinch
Salt as per taste
Method:
1. Whisk the milk, pumpkin puree, beaten eggs, melted butter and sugar until smooth.
2. Add all the other ingredients and whisk until smooth.
3. Heat a frying pan over medium flame.
4. Add a little oil and pour some of the batter.
5. Cook until bubbles form at the top or until it starts to brown a little and flip it over carefully.
6. Cook for a minute and remove.
7. Serve with a choice of topping.