Arai Keerai Puli Kadayal is a popular South Indian recipe with numerous regional variations. Arai Keerai has lots of health benefits especially for children, pregnant women and adults. Rich in minerals, protein and fiber, this dish is a easy to make and is best served with rice.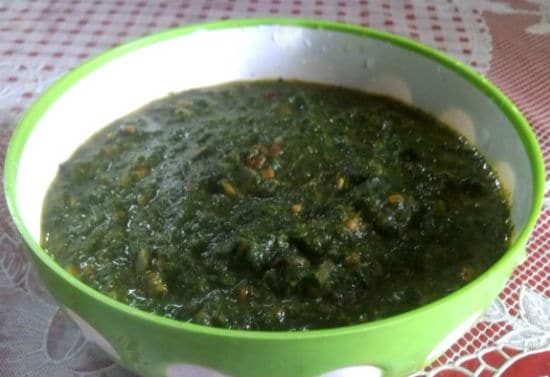 Ingredients:
Arai Keerai – 1 bunch
Tamarind – a big lemon sized ball, seedless
Green Chillies – 4, chopped or slit
Asafoetida Powder – a pinch
Oil as required
Salt as per taste
Sambar Powder – 2 tsp (optional)
Onions – 2 small, finely chopped (optional)
Method:
1. Wash and finely chop the keerai.
2. Soak the tamarind in a cup of warm water. Take out a thick extract and discard the tamarind.
3. Heat a pan over medium flame.
4. Pour 1/4 to 1/2 cup of water.
5. Add the onions (if using), green chillies and saute for a minute. Add the chopped keerai and stir well.
6. Add the tamarind extract and stir well.
7. Add the asafoetida powder and sambar powder.
8. Stir well and simmer for a minute or two.
9. Remove and serve with rice.