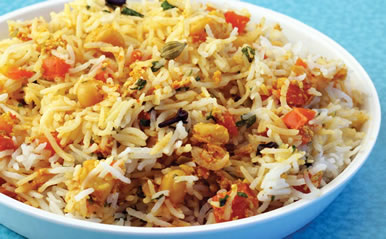 Ingredients:
Coriander leaves – 3 tbsp, chopped
Mint leaves – 2 tbsp, chopped
Green chillies – 1/2 tsp, chopped
Saffron – 1/4 tsp, dissolved in 1/4 cup warm low fat milk
Oil – 1 tsp, for greasing
Water – 3 cups
For the Kabuli Chana gravy:
Kabuli chana (Chick Peas) – 1/2 cuo
Ginger Paste – 1 tsp
Garlic Paste – 1 tsp
Red Chilli Powder – 1 tsp
Turmeric Powder – 1/2 tsp
Curd – 1 cup
Tomatoes – 3/4 cup, chopped
Potatoes – 1 cup, peeled and cubeed
Green chillies – 1 1/1 tsp, finely chopped
Oil – 1 tbsp
Salt – to taste
Method:
1. Soak kabuli chana overnight in a little water and boil in a pressure cooker till tender.
2. Heat a little oil in a non-stick pan.
3. Add to this the ginger and garlic pastes and fry for a while.
4. Next, add the red chilli powder, turmeric powder, 2 teaspoons of water and fry for a minute.
5. Add the curd, tomatoes, potatoes and green chillies and stir them all for a moment.
6. Add the cooked kabuli chana to it, mix them well and set the mixture aside.
7. Add coriander, mint leaves, green chillies and saffron milk to the cooked rice.
8. Once mixed, keep it aside.
9. Make 5 layers on a nonstick pan in the following order – 1/3 of the rice, 1/2 the kabuli chana gravy, 1/3 of the rice, rest of the chana gravy and the last layer of rice.
10. Cover with a lid and cook on low flame for 10 minutes.
11. Remove and serve hot with onion raita.
Tip: You can also bake it for 20 mins in a pre-heated oven at 200C or 375F.