Paneer Kabab (or Paneer Kebab) is a very delicious and easy to make appetizer snack for any occasion.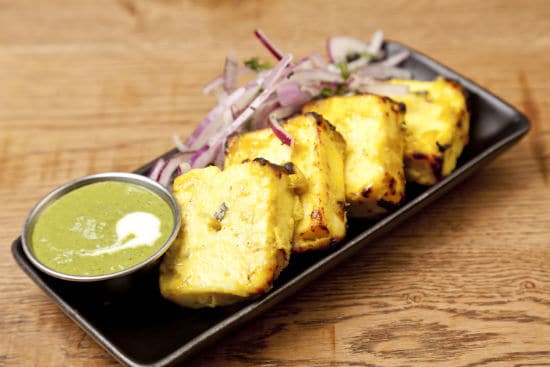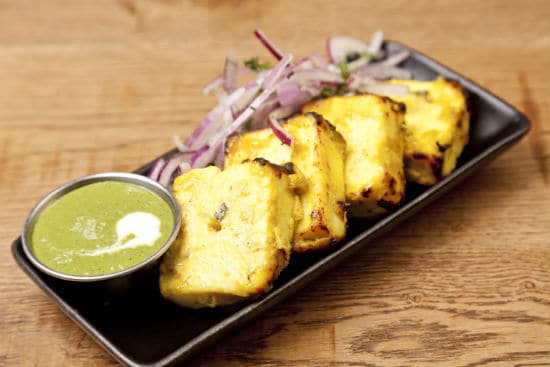 Ingredients:
Paneer – 125 gms, cubed
Plain Yogurt – 1/2 cup
Ginger Garlic Paste – 1 tblsp
Chaat Masala Powder – 1/2 tsp
Garam Masala Powder – 3/4 tsp
Chilli Powder – 1 1/2 tsp
Green Chilli Paste – 1/2 tsp
Cumin Powder – 1/4 tsp
Coriander Powder – 1/4 tsp
Salt as per taste
Method:
1. Mix the yogurt, ginger garlic paste, chaat masala powder, chilli powder, garam masala powder, green chilli paste, cumin powder, salt and coriander powder in a bowl.
2. Add the paneer cubes and gently mix until the paneer pieces are evenly coated.
3. Cover the bowl with cling film and keep it in the fridge for 2 to 4 hours.
4. Heat a grill pan over medium flame.
5. Remove the paneer from the fridge and drain the marinade.
6. Grill the paneer pieces for 3 to 4 minutes or until golden brown.
7. Remove and serve with mint chutney.
Tip: Do not grill the paneer pieces for too long as it will toughen.