A delicious and easy to make teatime or evening snack. They make a great after school snack for kids. Serve with tomato ketchup or chutney of choice.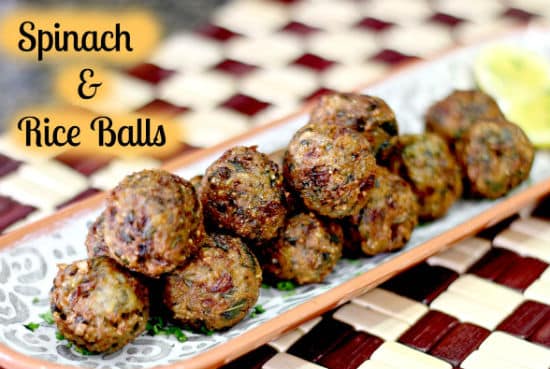 Ingredients:
Cooked Rice – 2 cups
Spinach – 2 bunches
Potatoes – 2
Onions – 2, finely chopped
Garlic – 6 to 8 cloves (depending on size)
Gram Flour – 3 tblsp
Amchur Powder (Dry Mango Powder) – 1/2 tsp
Salt as per taste
Red Chilli Powder as per taste
Oil as required
Method:
1. Wash, clean and finely chop the spinach.
2. Boil, peel and grate the potatoes.
3. Peel and crush the garlic cloves.
4. Mix all the ingredients except oil in a bowl.
5. Make small/medium balls of this mixture.
6. Heat oil in a deep frying pan.
7. Fry the prepared balls until golden brown.
8. Remove and drain excess oil.
9. Serve with tomato ketchup.
image via youtube/Sruthis Kitchen