Tangy, easy to make and delicious quesadillas with chicken, barbecue sauce and cheddar cheese. A great appetizer or a snack.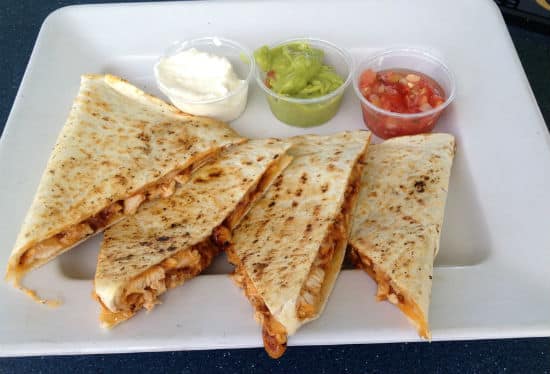 Ingredients:
Flour Tortillas – 4
Chicken – 2 cups, cooked, shredded, boneless, skinless
Green Chillies – 4 to 5, finely chopped
Salsa – 1/4 cup (available readymade or use this recipe)
Barbecue Sauce – 2 tblsp
Taco Sauce – 2 tblsp (available in supermarkets)
Cheddar Cheese – 1/3 cup, shredded
Sour Cream to serve (optional)
Spring Onions – few, chopped (optional)
Method:
1. Combine the chicken, green chillies, salsa, bbq sauce and taco sauce in a bowl.
2. Place two of the tortillas on a flat surface.
3. Divide the chicken mixture equally between the two tortillas.
4. Top up with cheese and spring onions. Cover with the remaining two tortillas.
5. Using little water, seal the edges.
6. Heat a nonstick tawa over medium flame.
7. Carefully cook the two quesadillas on both sides for 10 minutes each or until lightly browned and cheese starts to melt.
8. Remove and cut into triangles.
9. Serve with sour cream.
Tip: If you have an oven, preheat the oven to 225C/450F and cook for 6 to 8 minutes or until lightly browned.
Subscribe to our Newsletter
Receive the latest recipes & kitchen tips !