A simple, easy to make snack for evenings or for any weekend parties. Kids would love it too.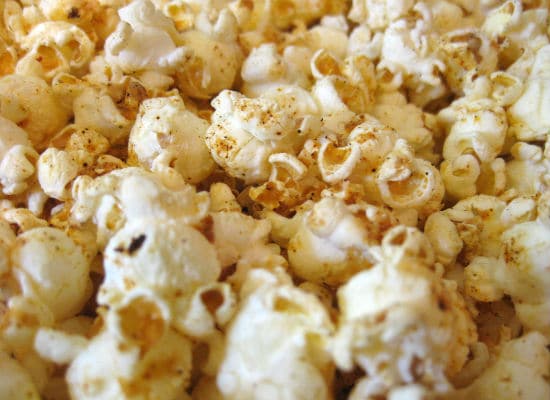 Ingredients:
Popping Corn Kernels – 2 to 3 tblsp
Vegetable Oil – 3 tsp
Red Chilli Powder – 1/4 tsp
Garlic Powder – 1/4 tsp
Onion Powder – 1/4 tsp
Coarse Salt – 1/4 tsp
Salted Butter  2 tsp
Cheese – 2 tblsp, finely grated (optional)
Method:
1. Heat oil in a pan over medium flame.
2. Add the corn kernels and cover with a lid. Wait till it starts to pop.
3. When the kernels have popped, remove it from flame and keep aside.
4. After a minute, transfer the popcorn to a large bowl.
5. Heat butter in another pan.
6. When the butter has melted, remove the pan from the flame.
7. Add the red chilli powder, garlic powder, onion powder and salt.
8. Mix well and pour it over the popcorn.
9. Mix well.
10. If using the cheese, add it to the popcorn and mix again.
11. Serve at once.
image via