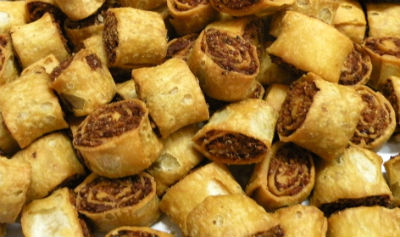 Ingredients:
Gram Flour – 1 cup
Corn Flour – 1/2 cup
Tamarind Extract – 1/2 cup
Ghee – 1/4 cup
Oil as required
Salt as per taste
For the filling:
Dessicated Coconut – 1 cup, grated
White Sesame Seeds – 1/4 cup
Gasa Gasa – 1/4 cup
Sugar – 2 tsp
Red Chilli Powder – 2 tsp
Garam Masala Powder – 1/2 tsp
Cardamom – 1, powdered
Cloves – 1, powdered
Cinnamon – 1, powdered
Coriander Leaves – 2 tblsp, finely chopped
Salt as per taste
Method:
1. Mix corn flour, gram flour, ghee and salt with enough water to a chapati dough like consistency.
2. Keep aside for a few minutes.
3. Heat a pan over medium flame.
4. Dry roast the dessicated coconut, gasa gasa and sesame seeds.
5. Add sugar and grind to a fine powder.
6. Add salt, red chilli powder, garam masala powder, powdered cardamom, cloves, cinnamon and coriander leaves.
7. Mix well.
8. Make small balls of the dough and roll them into small-medium chapatis.
9. Sprinkle a little tamarind water and place a tablespoonful of the filling.
10. Spread well and roll it tightly.
11. Cut these rolls into small bite sized pieces.
12. Fry these in hot oil and remove.
13. Drain excess oil.
14. Serve as a snack.