A really popular and delicious South Indian burfi made with grated coconut. This is typically made during special occasions and festivals like Diwali, Navratri, Tamil New Year and Ganesh Chaturthi. These days they can found in party menus as well.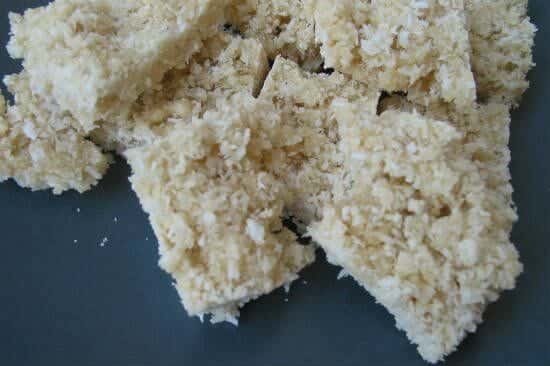 Ingredients:
Coconut – 1 cup, grated
Sugar – 3/4 cup
Cashewnuts – 1 tblsp, broken, fried in ghee
Ghee – 1 1/2 tblsp
Cardamom Powder – 1 tsp
Water – 1/4 cup
Method:
1. Grind the coconut in the mixie for 10 to 20 seconds.
2. Heat water in a pan over medium flame.
3. Add sugar and simmer till it reaches a one string consistency.
4. Add the grated coconut and stir well.
5. Add the fried cashewnuts and mix well.
6. Gently add the remaining ghee, stirring all the time, to the pan.
7. When the mixture starts to leave the sides of the pan, pour into a greased plate.
8. Keep aside to cool.
9. Before it cools completely, cut it into desired shapes.
10. Serve.