Pudina Paratha (or Mint Paratha) is a popular dish across India made with wheat flour and mint leaves. Often served with a variety of side dishes, Pudina Paratha is not only easy to make, it is also healthy and wholesome.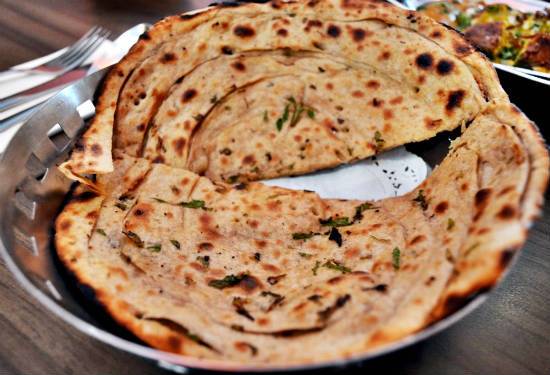 Ingredients:
Wheat Flour – 500 gms
Mint Leaves – 2 cups, chopped
Oil – 5 to 6 tblsp
Salt as per taste
Method:
1. Heat a pan over medium flame.
2. Dry roast the mint leaves and then grind them to a fine powder.
3. Mix this with the wheat flour and salt.
4. Add enough water to make a pliable dough.
5. Cover and keep aside for 10 minutes.
6. Pinch medium sized balls of this mixture and roll them out into medium sized parathas.
7. Heat a tawa over medium flame. Apply a little oil.
8. Cook the parathas till golden brown on both sides, adding a little oil around the edges.
9. Remove and serve hot with side dish of choice.