These delicious and somewhat spicy Sichuan Noodles are easy to make and make a great lunch or dinner. Ideal for any weekend party or sunday brunch.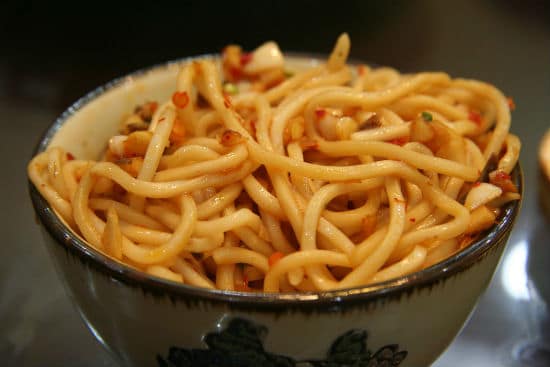 Ingredients:
Udon Noodles – 450 gms
Cucumbers – 2, peeled, seeded, chopped or sliced
Spring Onions – 1 cup, finely chopped
For the Dressing:
Peanut Butter – 2/3 cup
Warm Water – 2/3 cup
Soy Sauce – 1/4 cup
Vinegar – 1/3 cup
Dark Sesame Oil – 2 tblsp
Garlic – 2 cloves
Red Chilli Flakes – 1/2 tsp
Optional:
Capsicum – 1, chopped
Tomato – 1, chopped
Onion – 1, chopped
Method:
1. Pound the garlic and red chilli flakes together to make a paste.
2. Cook the noodles in a pan of salted water until al dente.
3. Mix the garlic and red chilli paste with the remaining ingredients for the dressing.
4. Drain the noodles and transfer to a large bowl.
5. Add the cucumbers, spring onions and dressing.
6. Toss gently until evenly mixed.
7. Serve.