Serve these delicious and easy to make tikkis as an appetizer or as a light teatime or evening snack.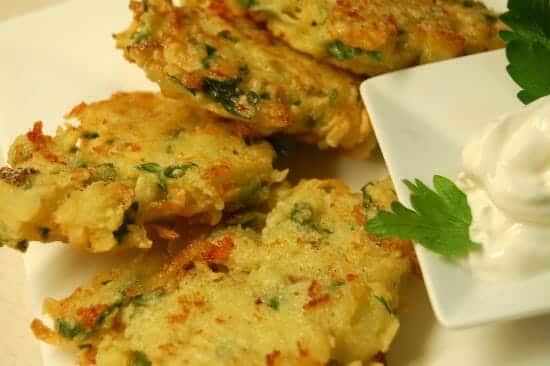 Ingredients:
Potatoes – 100 gms
Knol Khol (Kohlrabi) – 200 gms
Onions – 3 to 4
Green Chillies – 5 to 6
Breadcrumbs – 50 gms
Salt as per taste
Curry Leaves – few
Oil for frying
Method:
1. Pressure cook the knol khol and potatoes.
2. Finely chop the onions and green chillies.
3. Heat little oil in a pan over medium flame.
4. Saute the onions and green chillies for a minute.
5. Add the salt and curry leaves.
6. Peel and mash the potatoes and kohlrabi.
7. Add to the pan and stir well.
8. After a minute, remove from flame and allow to cool.
9. Make small balls and flatten them lightly.
10. Heat oil in a frying pan.
11. Dredge the prepared tikkis in breadcrumbs and add to the oil.
12. Fry until golden brown.
13. Remove and drain excess oil.
14. Serve with sauce or chutney.