These thin homemade wheat crackers are a great teatime snack. They also make for a perfect after-school snack for kids.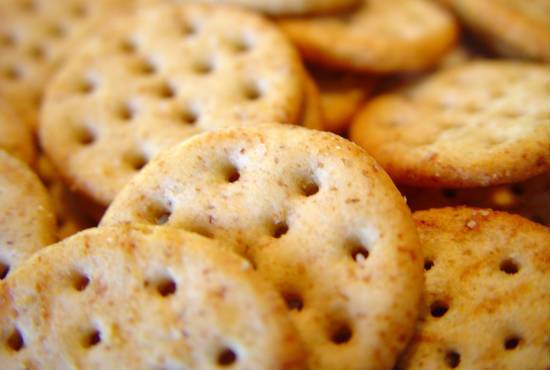 Ingredients:
Whole Wheat Flour – 2 1/2 to 3 cups
Olive Oil – 1/4 cup + extra
Golden Syrup – 2 tsp (available in supermarkets or speciality stores)
Water – 1/2 cup
Salt – 1 tsp
Turmeric Powder – a pinch
Sugar – 1 tblsp
Sea Salt as per taste
Black Pepper Powder as per taste
Method:
1. Mix the wheat flour, sugar, salt and turmeric powder in a bowl.
2. Add the olive oil and mix again.
3. Add the golden syrup and water.
4. Mix to a smooth dough.
5. Make small balls of the dough and roll them out into thin 1×1 inch squares (or circles).
6. Place them onto a baking tray lined with parchment paper.
7. Prick each cracker with a fork and drizzle with some olive oil on top.
8. Sprinkle sea salt and pepper powder on top.
9. Place the tray in a preheated oven at 200C/400F.
10. Bake for 10 minutes or until the edges start to turn golden brown.
11. Remove, cool and store them in a clean, sterilized jar.
12. Serve as teatime snack.