A Mexican twist to the classic dish. Ideal for a light snack or as an appetizer, this Mexican style Shrimp Cocktail is refreshing and simple to make.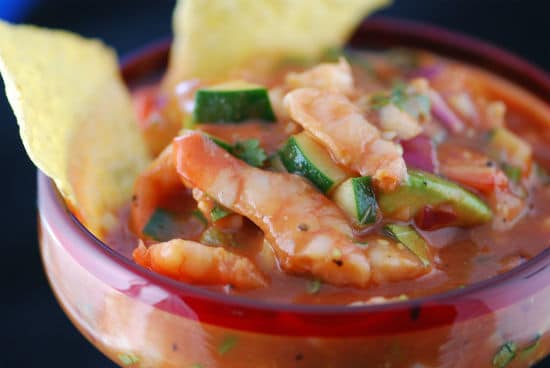 Ingredients:
Shrimps – 100 gms
Cucumber – 1/2 cup, finely chopped
Onion – 2 tblsp, chopped, finely chopped
Tomato – 1/2, small, finely chopped
Coriander Leaves – handful, finely chopped
Tomato Ketchup – 1/4 cup
Lime Juice – 2 to 3 tblsp
Orange Juice – 1/4 cup
Worcestershire Sauce – 2 drops
Red Chilli Sauce (or Tabasco Sauce) – 2 to 3 drops
Salt as per taste
Pepper Powder as per taste
To Serve:
Avocado Flesh – 2 tblsp, finely chopped
Tortilla Chips, broken
Method:
1. Heat 1/2 cup of water in a pan over medium flame.
2. Bring to a boil and add the shrimps.
3. Cook until opaque and cooked through.
4. Remove the shrimps reserve 1/4 cup of the water.
5. In a large bowl combine all the ingredients.
6. Add the reserved water and mix well.
7. To serve, divide the mixture between small serving bowls.
8. Top up with the avocado and garnish with the tortilla chips.