Chicken Tikka is a popular Indian dish. This is a delicious and flavourful burger made with Chicken Tikka. This burger is ideal as an evening snack or can be served as part of a weekend brunch or picnic.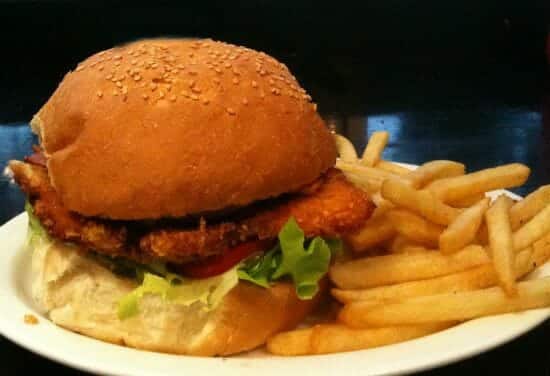 Ingredients:
Chicken Breasts – 2 to 3
Burger Buns – 3 to 4
Tomato Puree – 3 tsp
Plain Yogurt – 100 gms
Ginger Garlic Paste – 2 tblsp
Garam Masala Powder – 1 tblsp
Cinnamon Powder – 1/4 tsp
Red Chilli Powder – 1/3 tsp
Juice of 1/2 Lemon
Salt as per taste
To Serve:
Cucumber Slices
Lettuce Leaves – big handful, chopped
Mint Leaves – handful, chopped
Onion Slices
Mayonnaise
Tomato Slices
Green Chutney or Cheese Spread (optional)
Method:
1. Combine the tomato puree, yogurt, ginger garlic paste, salt, garam masala powder, cinnamon powder, red chilli powder and lemon juice in a bowl.
2. Mix well.
3. Cut the chicken breasts in medium size pieces (to fit into the buns) and add to the bowl.
4. Mix well until evenly coated and keep aside for 60 to 90 minutes.
5. Heat a grill pan over medium flame.
6. Cook the marinated chicken pieces for 4 to 5 minutes on each side until cooked through.
7. Halve the burger buns and lightly toast them.
8. Apply mayonnaise on half of the buns.
9. Apply the green chutney on the other half.
10. Add some lettuce leaves and arrange the chicken pieces on top.
11. Top up with mint leaves, cucumber, tomato and onion slices.
12. Cover with the other half of the burger and press lightly.
13. Serve at once.