A popular Afghani dish where chicken is marinated in pomegranate juice and spices. Best served with rotis, naans or parathas.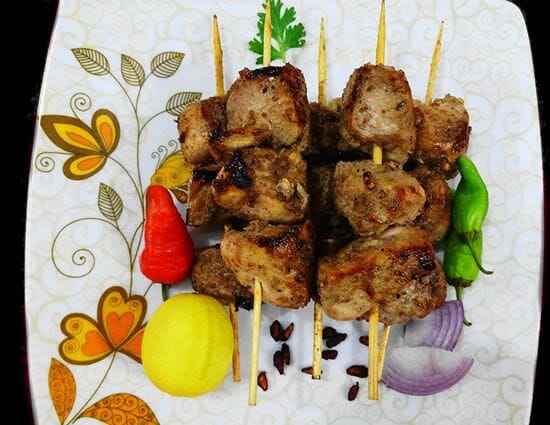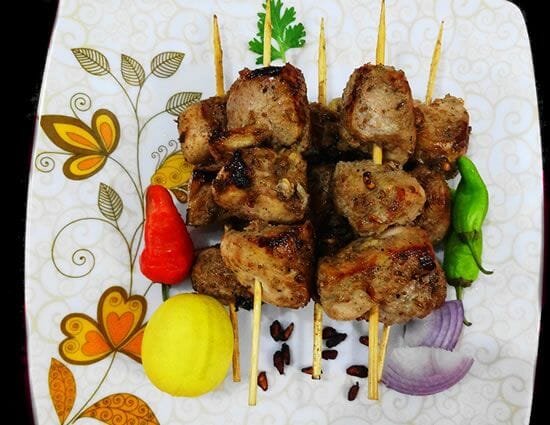 Ingredients:
Chicken Breasts – 250 gms, skinless, boneless, chopped
Garlic – 3 to 4 cloves
Ginger – 1/2 inch piece, chopped
Plain Yogurt – 3 tsp
Besan Flour (Chickpea Flour) – 1 tsp
Red Chilli Powder – 3/4 tsp
Pomegranate Juice – 1/4 cup
Pomegranate Seeds – 2 tsp, dried
Garam Masala Powder – 1/4 tsp
Butter as required
Salt as per taste
Wooden Skewers – 3 to 4, soaked in water for 30 minutes
Method:
1. Grind the ginger and garlic to a fine paste.
2. Mix the yogurt and besan in a bowl.
3. Add the ginger garlic paste, red chilli powder, pomegranate juice, pomegranate seeds and garam masala powder.
4. Add the chicken pieces and mix well until they are evenly coated.
5. Keep aside for 2 hours.
6. Heat a grill pan over medium flame.
7. Thread the marinated chicken pieces onto the skewers and place them on the grill pan.
8. Cook for 10 minutes, turning them once or twice.
9. Brush the chicken pieces with butter and grill until fully cooked.
10. Remove and serve with roti, parathas or naan.
Original image from Wiki Commons