This delicious Chettinad style Mushroom Biryan is a great lunchtime/dinner dish ideal for any occasion. The cuisine of Chettinad is known for its use of spices and masalas. And this dish serves as a reminder of what Chettinad food is all about.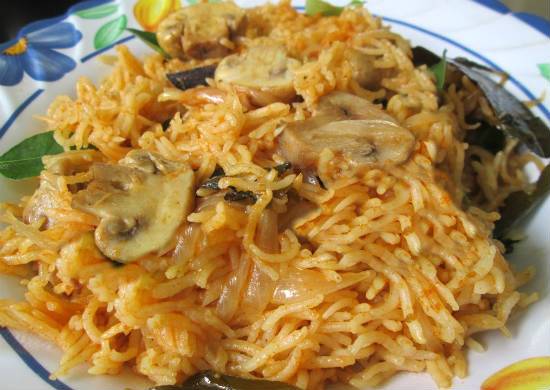 Ingredients:
Basmati Rice – 500 gms
Button Mushrooms – 250 gms, chopped or sliced
Onions – 200 gms, finely chopped
Tomatoes – 200 gms, finely chopped
Ginger Garlic Paste – 2 tblsp
Cloves – 3
Cardamoms – 3
Cinnamons – 3
Mint Leaves – handful
Coriander Leaves – big handful
Curry Leaves – few
Juice of 2 Lemons
Ghee – 100 ml
Oil – 100 ml
Turmeric Powder – 1/4 tsp
Cumin Seeds – 1 tsp
Salt as per taste
For the Masala Powder:
Cinnamon – 8 to 10
Cloves – 4
Cardamoms – 6 to 7
Black Cardamoms – 2
Star Anise – 2
Black Peppercorns – 2 tsp
Coriander Seeds – 1 tsp
Cumin Seeds – 1 tsp
Saunf – 1 tsp
Nutmeg Powder – 1/4 tsp
Method:
1. Soak the rice in water for 10 minutes.
2. Wash and drain the rice well.
3. Heat oil in a pan over medium flame.
4. Fry the cumin seeds, cinnamons, cloves and cardamoms for 30 seconds.
5. Add the onions and saute until golden, about 2 to 3 minutes.
6. Add the ginger garlic paste and stir-fry for a minute or two.
7. Add the mint leaves, coriander leaves, curry leaves and turmeric powder.
8. Add the green chillies, juice of 2 lemons, tomatoes and salt.
9. Mix well.
10. Grind the ingredients for masala powder to a fine powder and add to the pan.
11. Stir well.
12. Pour a litre of water and simmer for 10 minutes.
13. Add the rice, mushrooms and little salt.
14. Cook until the rice is almost done and water has almost evaporated.
15. Cover with a lid and cook for another 5 to 10 minutes over low flame.
16. Keep stirring from time to time to prevent the rice from sticking to the bottom.
17. When the rice is fully cooked switch off the flame.
18. Add ghee and mix well.
19. Serve hot with raita or side dish of choice.
Tip: You can also transfer to a pressure cooker after step #11 and cook until 2-3 whistles or until the rice is cooked.
Image via youtube video
Subscribe to our Newsletter
Receive the latest recipes & kitchen tips !