Easy,  delicious and a great dish for lunch, dinner or brunch. Kids would love this dish. If desired, garnish with some roasted peanuts and serve.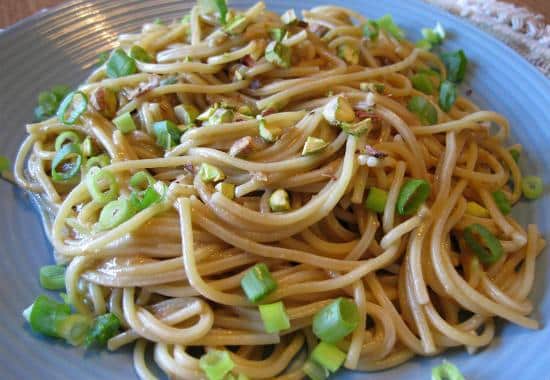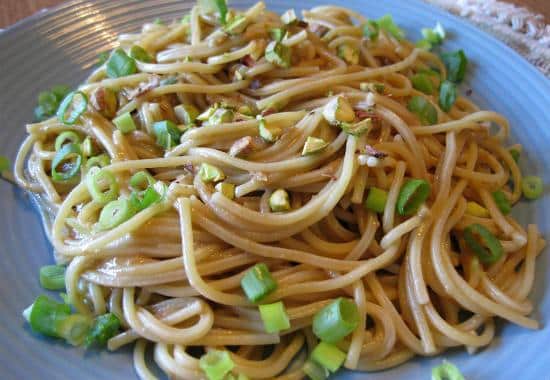 Ingredients:
Plain Noodles (or Egg Noodles) – 200 gms, dried
Onion – 1, finely sliced
Soy Sauce – 1/4 cup
Garlic – 2 cloves, finely chopped
Peanut Butter – 1/4 cup
Juice of 1 Lime
Peanut Oil – 3 tblsp
Lime Wedges – few
Garlic Chilli Oil – 4 tsp
Spring Onions – few, chopped, to garnish
For Garlic Chilli Oil:
Garlic Clove – 1, sliced
Vegetable Oil – 30 ml
Red Chilli Flakes – 1 1/2 tsp
Black Peppercorns – 6 to 8
Method:
1. To make the garlic chilli oil, heat a pan over medium flame.
2. Add all the ingredients and fry until the garlic starts to change colour.
3. Ensure the ingredients do not get burnt.
4. Remove from flame and cool.
5. Store in a clean, sterilized jar and use as required.
6. Cook the noodles as per packet instructions and drain.
7. Mix the peanut butter, chilli oil, soy sauce and half of the lime juice in a bowl.
8. Heat peanut oil in a pan over medium flame.
9. Saute the onions and garlic for a minute or until onions turn golden.
10. Add the peanut butter mixture and cook for 30 seconds.
11. Add the drained noodles and mix well.
12. Add a little bit of water if it looks too dry.
13. Garnish with spring onions.
14. Serve with lime wedges.