This homemade sweet chilli sauce is simple, easy to make and best of all goes well with almost all dishes as a dipping sauce.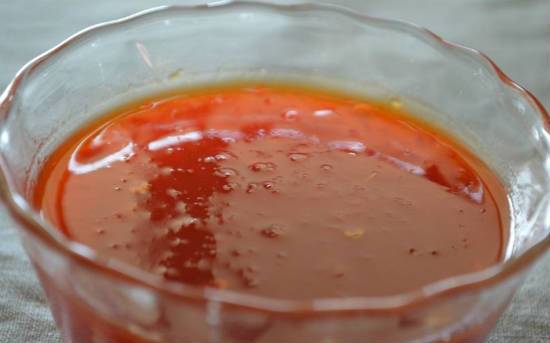 Ingredients:
Red Chillies – 8 to 10, long ones, finely chopped
Garlic – 5 to 6 cloves, peeled
White Wine Vinegar – 100 ml
Corn Flour – 2 tblsp
Salt – 2 tblsp
Cold Water – 400 ml
Granulated Sugar – 200 gms
Method:
1. Combine the chillies, garlic, vinegar, corn flour, salt and water in a blender.
2. Blend well until smooth.
3. Heat a pan over medium flame.
4. Transfer the blended mixture to the pan and stir well.
5. Simmer until it starts to boil and add the corn flour.
6. Stir well until it starts to thicken.
7. Remove the pan from flame and cool.
8. Transfer to a clean, sterilized jar.
9. Use as needed.
10. Stays good for up to 2 weeks.
Note: You can substitute corn flour for potato starch if available.
Subscribe to our Newsletter
Receive the latest recipes & kitchen tips !