A classic Italian starter/appetizer, these Bruschettas a great way to entertain your guests.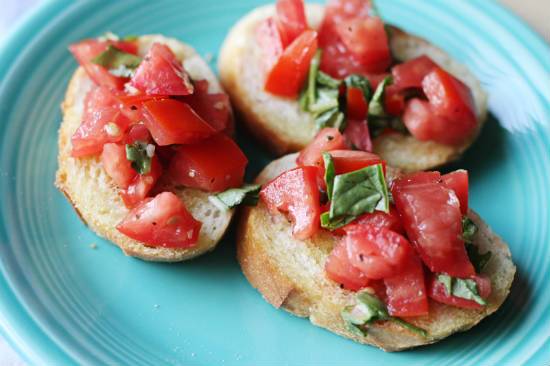 Ingredients:
French Baguette – 1 (about 15 to 20 inch)
Tomatoes – 5 to 7, ripe, chopped
Basil Leaves – 1/4 cup, chopped
Extra-Virgin Olive Oil – 2 tblsp
Black Pepper Powder – 1/2 tsp
Salt – 1/4 tsp
Garlic – 3 to 4 cloves, halved
Method:
1. Combine the tomatoes and basil leaves in a bowl.
2. Add olive oil, pepper powder and salt.
3. Mix well and cover with a lid or clingfilm.
4. Keep it in the fridge until required.
5. Cut the baguette into 1/2 inch thick slices and place them on a baking tray lined with sheet.
6. Place it in a preheated oven at 450F/225C and toast lightly for 5 to 10 minutes, turning once or twice.
7. Remove and rub the garlic cloves on top of the bread.
8. Add 1 or 2 tblsp of the tomato mixture on top and transfer to a serving plate.
9. Serve at once.
Note: If baguettes are not available, use any crusty bread.
Tip: If desired, you can also add slices of red onions.