Jam Drops are a popular biscuit variety that have a regular biscuit base and topped with jam of choice. These are delicious and a definite hit with the kids. Serve as a teatime snack or as an afterschool snack.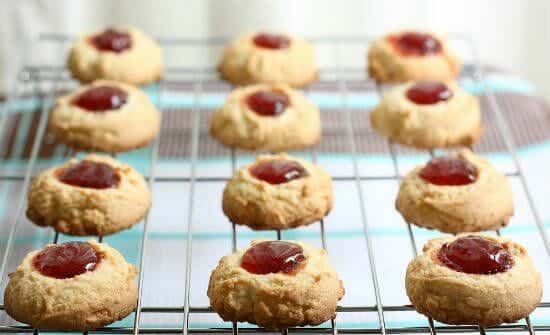 Ingredients:
Eggs – 2
Butter – 300 gms
Caster Sugar – 1 cup
Vanilla Essence – 2 tsp
Maida – 2 1/2 cups
Baking Powder – 1/2 to 1 tsp
Coconut – 2 cups + 2 cups, desiccated
Jam – 1 cup (Raspberry, Strawberry or Mixed Fruit Jam)
Method:
1. Combine the butter and caster sugar in a bowl.
2. Beat well until creamy and pale in colour.
3. Break the eggs into the bowl.
4. Add vanilla essence and beat well.
5. Mix maida and baking powder in bowl. Sift well.
6. Add this to the dough along with 2 cups of coconut.
7. Mix well until evenly combined.
8. Make small balls and keep them on a plate.
9. Spread the remaining 2 cups of coconut on a plate.
10. Roll the balls and place them on a baking tray lined with parchment paper.
11. Flatten them lightly.
12. Place the tray into a preheated oven at 180C and bake for about 7 minutes.
13. Remove and using the back of a spoon make a small indent at the centre of each biscuit.
14. Put the tray back in the oven and bake for 7 to 8 more minutes or until golden.
15. Remove and cool.
16. Add some jam to the depression at the center.
17. Allow it to cool and set completely.
18. Store in an airtight container.
19. Serve as a snack.