A simple and tangy Punjabi dish with Bhindi cooked with curd, lemon pickle and spices.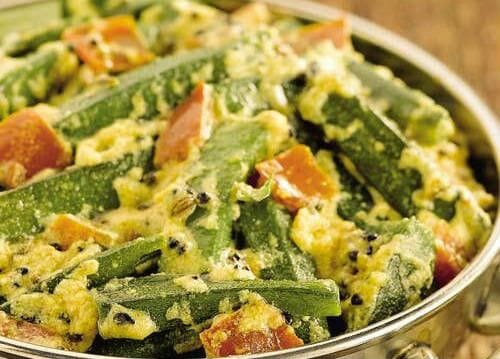 Ingredients:
Bhindi (Okra) – 400 gms, slit lengthwise
Mustard Seeds – 2 tsp
Saunf – 2 tsp
Fenugreek Seeds – 1 tsp
Asafoetida Powder – 1/4 tsp
Turmeric Powder – 1/4 tsp
Red Chilli Powder – 3 to 4 tsp
Lemon Pickle – 1 tblsp
Fresh Curd – 200 ml
Oil as required
Salt as per taste
Method:
1. Heat 2 tblsp oil in a pan over medium flame.
2. Fry the bhindis until slightly crisp and remove.
3. Grind the mustard seeds, saunf and fenugreek with little water. Keep aside.
4. Add 2 to 3 tblsp oil to the pan and place it over medium flame.
5. Add the ground paste and fried bhindis.
6. Stir well and simmer for 2 minutes.
7. Add turmeric powder, red chilli powder, asafoetida powder, salt and lemon pickle.
8. Stir well.
9. Add curd and 1 cup of water.
10. Simmer for 15 to 20 minutes or until the gravy starts to thicken.
11. Remove and serve as side dish with chapati, roti or naan.
image via Tarla Dalal