Also known as Rose Petal Jam, this can be used as a substitute to regular Jams. Delicious and with many health benefits, this Rose Gulkand acts as a body coolant.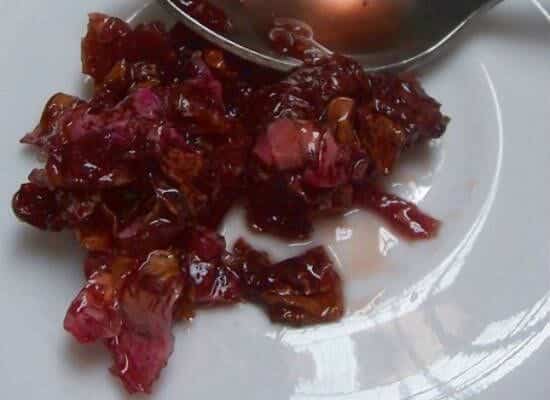 Ingredients:
Pumpkin – 100 gms, grated
Rava (Sooji) – 2 tblsp
Rose Petals – 1/4 cup, washed, drained fully
Sugar – 1/3 cup
Unsweetened Khoya – 2 tblsp
Ghee – 2 1/2 tsp
Cashew Nuts – few
Raisins – few
Method:
1. Heat 1 tsp ghee in a kadhai over medium flame.
2. Add the rava, cashew nuts, raisins and stir-fry for a minute or two.
3. Add the remaining ghee to another pan.
4. Add the sugar, pumpkin, khoya and rose petals.
5. Stir-fry for 2 to 3 minutes.
6. Add the rava mixture and mix well.
7. Cook for 2 to 4 minutes or until it has a jam like consistency.
8. Remove and store in an airtight container.
9. Use as a substitute for Jam and serve with bread or rolls.