Who can say no to the age old favourite – Poori Bhaji or Puri Bhaji? For the Indian culinary virgins, poori or puri is a flat bread, made from whole wheat flour, that is deep fried and served with a variety of sides – mainly consisting of potatoes or white chana.
Poori is one of the most loved breads across the country, transcending all states, palettes and tastes becoming more of a national dish than a state delicacy. Like many of our Parathas or Rotis, poori is pretty versatile. A slight variation in its method of preparation and serving gives a subtle hint of the place of its origin. Be it the Chole Bhature, hinting of Punjab or Poori masala, indicating its Southern cousin, or a Luchi from the Eastern side, it is no doubt, a very well received breakfast items of all times.
In our recipe here, we will make the timeless Poori Bhaji. Bhaji is a generic term referring to vegetable curry, usually containing whole or mashed potato. This Poori Bhaji recipe calls for a simple stir fry of potato and onions, making it a South Indian delicacy. The potato bhaji can either be dry, semi-dry or a gravy consistency (usually involving a couple of tomatoes). Simply stir fry it with jeera and spices, it becomes Jeera Aloo of Gujarati fame; mash it well and cook it with a couple of tomatoes and onions, it becomes the masala for Poori Masala in Tamil Nadu or an equivalent Sagoo from Karnataka. Or just whip it any which way you like, you just can't go wrong with the deadly combination of Poori and Potato.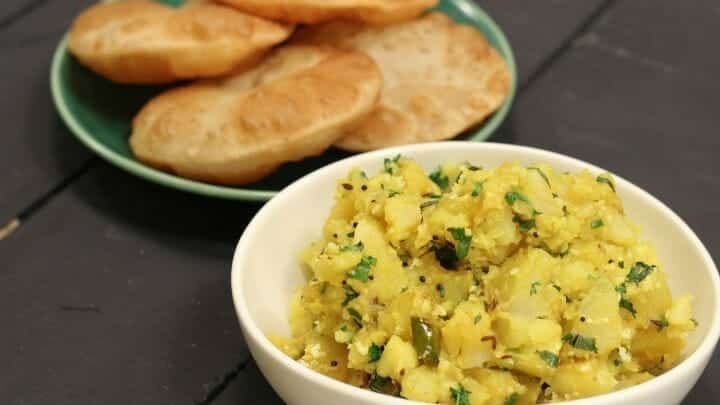 Ingredients
For Pooris
Wheat Flour – 2 cups
Fresh Curd – 2 tbsp.
Water to knead dough
Salt to taste
Oil to deep fry
For Bhaji
Potatoes – 500g boiled peeled and diced
Onion – 1 large. finely chopped
Green Chillies – 3, slit vertically
Ginger – 1/2 inch knob, finely chopped or grated
Garlic – 1 large, crushed
Turmeric powder – 1/4 tsp
Lemon juice – 1 tsp
Oil – 4 tbsp
Mustard seeds – 1/2 tsp
Cumin Seeds – 1/2 tsp
Salt – as per taste
Coriander – handful, finely chopped
Method
For Pooris:
Mix the curd and salt in the flour.
Knead it into a slightly hard dough with water.
Keep aside for 15 minutes.
Pinch small pieces off the dough and roll it into balls.
Dip each ball in oil and roll it into a disc using a rolling pin.
Heat oil in a deep pan, fry on both sides till light brown.
Drain excess oil on a kitchen paper, repeat for remaining dough.
Serve hot with Bhaji.
For Bhaji:
Heat oil in a pan, add the mustard seeds and allow to splutter.
Add the cumin, ginger, garlic, chilli, onion and stir fry till onion is tender.
Add potatoes, salt and turmeric.
Stir well and cook for a minute or two.
Turn off the flame and squeeze a few drops of lemon juice and mix well.
Transfer to bowl, garnish with chopped coriander.
Serve hot with pooris.
Tip: Avoid making the dough too soft as it will need dusting with flour while rolling. When made so, the pooris will leave a lot of sediments in the oil and therefore cannot be re-used.
Tried it? Do let us know your feedback and comments with a picture of your Poori Bhaji dish.
Adios, until our next recipe!