Mutton ki Roast is a an easy to make roasted mutton recipe. If you are a Mutton lover, then this is a must have recipe. The slow cooking of the meat and the aroma of spices transport the genuine lover of this dish to mutton heaven (if there is any such thing). One of the tricks to cooking mutton is the marination. The more the meat is marinated in the spices, the better it tastes and absorbs the flavour and aroma of spices.
Mutton ki roast recipe is a fusion of fried and spicy food. An extremely versatile dish, it can be eaten along with Roti, Naan, Pulao, mildly flavoured Biryani or just on its own as an appetizer or starter. In fact, when all ingredients are available on hand, making this takes so less time that it is a perfect party food and even comes handy as travel food as it is dry and won't cause a mess.
Try out our Mutton ki Roast recipe and share your feedback and pictures in the comments section below. We would love to hear from you.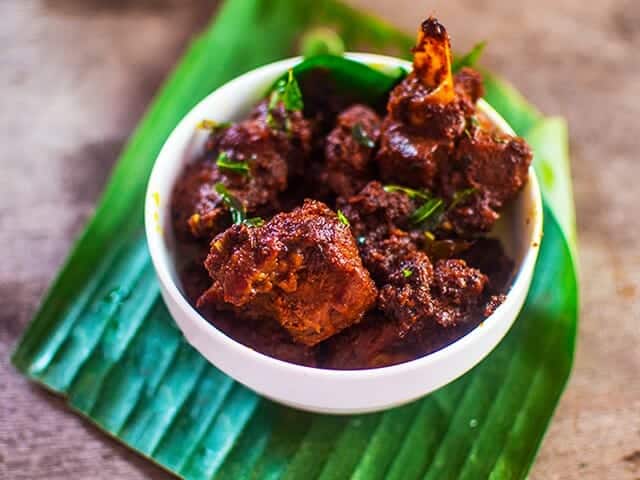 Ingredients:
To Prepare Mutton:
Mutton – 1 kg
Ghee – 3 tblsp
Ginger garlic Paste – 1 tblsp
Turmeric Powder – 1/2 tsp
Salt – 1 tsp
Water – 2 cups (approx 240ml)
To Prepare Masala :
Kashmiri Chillies – 10
Coriander Powder – 1 tblsp
Pepper Powder – 1 tblsp
Lemon Juice – 1 tblsp
Fennel Seeds – 1 tsp
Cumin Seeds – 2 tsp
Cloves – 4
Cinnamon Stick – 1 small piece
Garlic – 2 cloves
Ginger – 1 small piece
To Roast :
Ghee – 1/4 cup
Thick Curd – 2 tblsp
Salt to Taste
Curry leaves – few
Method:
Clean and wash the mutton pieces.
Heat a pressure cooker and cook the mutton pieces along with other ingredients given to prepare mutton. Cook until the mutton turns soft and tender. Drain and keep aside the remaining cooked water.
Heat a pan under medium flame.
Dry roast the Kashmiri chillies and keep it aside.
To the same pan, fry all the ingredients given under masala preparation, except lemon juice, ginger and garlic.
Allow the roasted ingredients to cool down.
Grind them into fine paste adding the ginger, garlic and lemon juice.
Take a large kadai and heat it.
Heat the ghee and add the ground masala paste, salt, thick curd and the remaining water used to cook the mutton pieces.
Cook until the ghee gets separated from the gravy.
Add the cooked mutton pieces to the gravy.
Simmer the flame and cook until the water evaporates.
Once the mutton is cooked well and roasted, add the curry leaves and turn off the heat.
Serve hot as a starter.
If you like this Mutton ki roast recipe, you may like a few other popular dishes too: