Kullakar Rice Salad is a dish made from a native grain. Kullakar rice or Red Rice is an ancient grain and an indigenous rice variety native to our country, India. This Red Rice variety is naturally pest resistant, has a short growing period and hence contains less pollutants and can be grown through the year.
There are many red rice varieties grown in our country and Kullakar is just one of them – short grained and rich in fibre, magnesium and calcium. Unlike the white rice, this rice variety is not stripped off its natural goodness and has a higher quantity of fibre and other micro nutrients like zinc. When the white rice gained popularity, these types or rice lost favour among consumers. Thankfully, with increased awareness and understanding of the medicinal properties associated with this grain, Kullakar rice, along with a few other traditional grains is growing back in favour among the informed rice eaters.
When one thinks of rice, it is usually consumed steamed along with a side of sambar and vegetables. In this recipe of Kullakar Rice salad, we mix this rice with other sprouted grains to make it a complete meal on its own or as a starter to a meal. This salad is very versatile. You can also include your choice of proteins in the form of paneer, chick peas or even meat for that matter.
Go on, experiment with this and let us know your experience.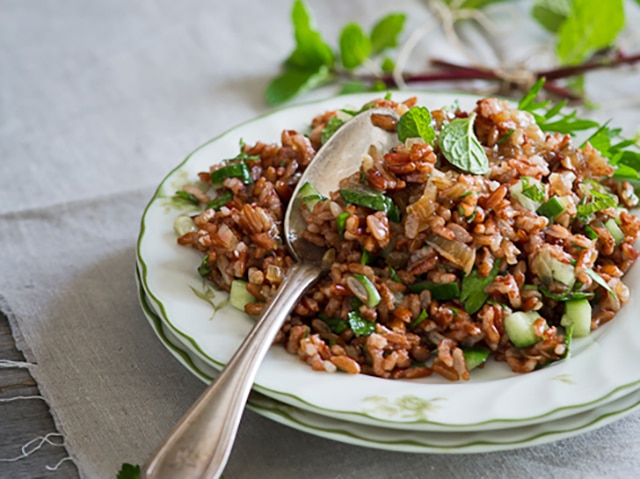 Ingredients:
Kullakar Rice – 1 cup
Sprouted Grains – 1/2 cup (mix of wheat, ragi, green moong, etc.)
Pomegranate Pearls – 1 fruit
Ginger Juice – 1 tsp
Lemon Juice – 1/2 tsp
Pepper – As Required
Salt to Taste
Method:
Soak the rice for 6 to 8 hours.
Cook it in the ratio of 1:3 (1 cup rice, 3 cups water). Drain any excess water.
Add the sprouted grains, ginger juice, pepper and salt.
Mix them thoroughly.
Squeeze the lemon juice and add the pomegranate pearls.
Give a gentle mix and serve them.
This rice is rich in iron, protein, and high in anti oxidant. It contains complex carb, with a higher ratio of fibre and very healthy dish for children and seniors.
Image Credit