Chicken Burger is one of the most popular fast food items in India and outside. They are ideal as a quick snack, dinner or can also be served at weekend parties or sunday brunches.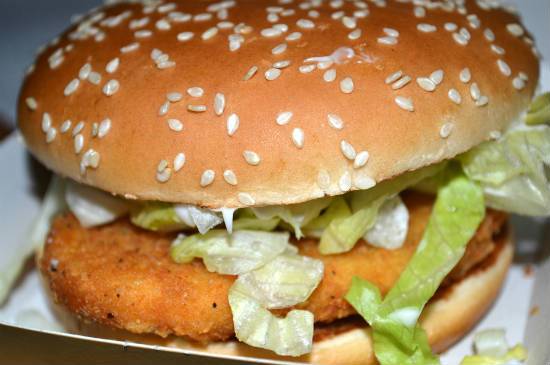 Ingredients:
Chicken – 250 gms, cooked, minced
Potato – 1, boiled, peeled, mashed
Green Peas – 2 tblsp, shelled, cooked
Onion – 1, finely chopped
Carrot – 1, finely grated
Cheese – 3/4 cup, grated
Capsicum – 1/2, finely chopped
Coriander Leaves – handful, chopped
Garam Masala Powder – 1/2 tsp
Ginger Garlic Paste – 1/2 tsp
Red Chilli Powder – 1/2 tsp
Green Chilli – 1, finely chopped
Breadcrumbs – 3/4 cup
Oil – little
Salt as per taste
Black Pepper Powder as per taste
Burger Buns – 3 to 4, halved, toasted
Butter as required
Tomato Ketchup as required
To Serve:
Lettuce – handful, chopped
Slices of Onion
Slices of Tomato
Slices of Cucumber
Cheese Slices (optional)
Mayonnaise as required
Method:
1. Heat little oil in a nonstick pan over medium flame.
2. Saute the vegetables (carrot, onion, capsicum) for a minute and remove.
3. Transfer to a large bowl.
4. Add the chicken, peas, cheese, salt, tomato ketchup, coriander leaves, green chillies, garam masala powder, red chilli powder and ginger garlic paste.
5. Mix well and shape the mixture into 3 to 4 medium sized balls.
6. Flatten these balls into patties and dip them in the breadcrumbs.
7. Heat little oil in a nonstick pan.
8. Fry the prepared patties, on both sides, for a minute or two or until crispy.
9. Place the buns on a flat surface.
10. Apply some butter on one half and some mayonnaise on the other.
11. Place some lettuce on one half followed by the cooked burger patty and a slice of cheese.
12. Top up with a slice of tomato, onion and cucumber.
13. Sprinkle a bit of pepper powder.
14. Cover with the other half and serve at once.