A delicious and tasty snack for any parties and occasions or on a lazy weekend.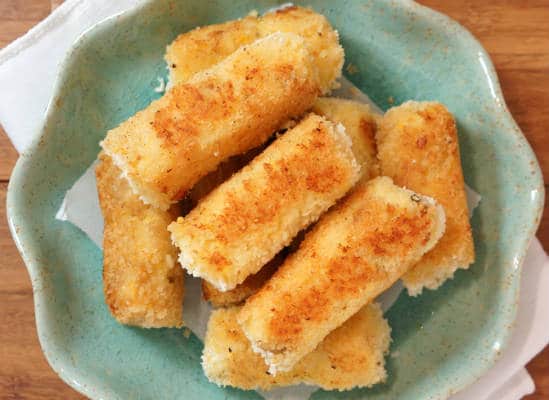 Ingredients:
Cauliflower – 1, cleaned, washed, finely chopped
POtatoes – 2
Cheese – 2 tblsp, grated
Green Chillies – 3
Ginger – a small piece
Garlic – 4 cloves
Breadcrumbs – 1/4 cup
Maida – 1/4 cup
Oil as required
Salt as per taste
Method:
1. Bring a pan of water to boil.
2. Switch off the flame and add the cauliflower pieces.
3. Remove after 2 minutes and drain well.
4. Grind the green chillies, ginger and garlic to a fine paste.
5. Boil the potatoes, peel and mash well. Transfer to a bowl.
6. Add cauliflower, ground paste, 2 tblsp madia, cheese and salt.
7. Mix well.
8. Shape this into desired shapes and keep aside.
9. Add water to the remaining maida and mix well to a thin batter.
10. Heat oil in a frying pan.
11. Dip the prepared croquettes in the batter and roll them in the breadcrumbs.
12. Gently slide them into hot oil and fry until golden brown.
13. Remove and drain excess oil.
14. Serve hot with ketchup or mint chutney.