A popular and delicious South Indian side dish.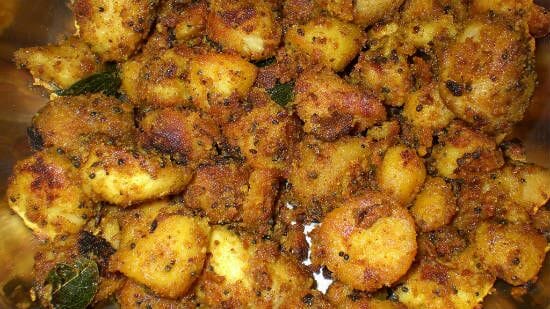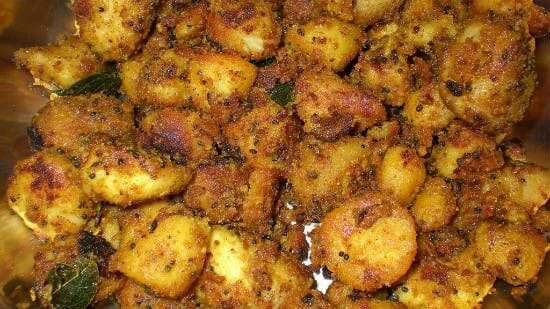 Ingredients:
Colocasia (Seppankizhangu/Chembu/Arvi) – 750 gms
Oil – 3/4 cups
Red Chilli Powder – 2 tsp
Coriander Powder – 2 tsp
Turmeric Powder – 1/2 tsp
Tamarind Extract – 1/2 to 1 cup
Salt as per taste
Mustard Seeds – 1 tsp
Urad Dal – 2 tsp
Curry Leaves – few
Dry Red Chillies – 2, broken
Method:
1. Boil the seppankizhangu, peel the skin and cut into small pieces.
2. Transfer to a mixing bowl.
3. Add red chilli powder, turmeric powder and coriander powder.
4. Sprinkle a bit of salt and mix well until evenly coated.
5. Keep aside for 10 to 15 minutes.
6. Heat oil in a pan over medium flame.
7. Fry the mustard seeds seeds, dal and red chillies for 30 seconds.
8. Add curry leaves, marinated colocasia pieces and tamarind extract.
9. Increase flame to high and cook, stirring from time to time to prevent sticking to the bottom, for 5 to 10 minutes.
10. When the colocasia pieces are crisp and moisture has evaporated, remove from flame.
11. Serve hot with rice.
Note: If you need more crispness add some more oil while frying.