This is an eggless omelette made using mushrooms and different flours.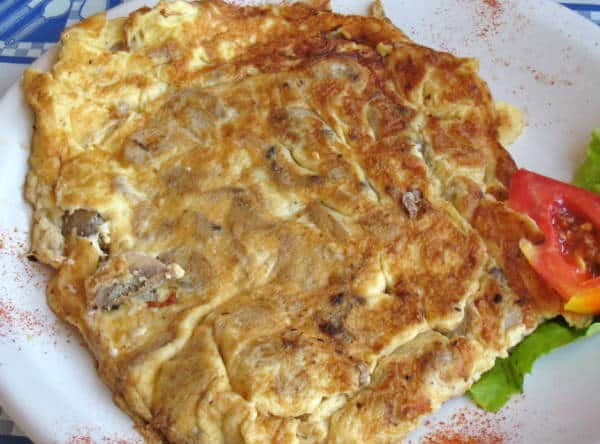 Ingredients:
Gram Flour – 2 cups
Wheat Flour – 2 tblsp
Rice Flour – 2 tblsp
Roasted Gram Flour – 1/4 cup
Button Mushrooms – 10 to 12, finely chopped
Onions – 2, finely chopped
Ginger Garlic Paste – 1 to 2 tsp
Pepper Powder – 1 tsp
Cumin Powder – 1 tsp
Turmeric Powder – 1/2 tsp
Salt as per taste
Oil as required
Method:
1. Combine the gram flour, wheat flour, rice flour, roasted gram flour, mushrooms, ginger garlic paste, onions, pepper powder, cumin powder, turmeric powder and salt in a bowl.
2. Add enough water and mix to a idli batter consistency.
3. Heat a little oil in a tawa over medium flame.
4. Pour a ladleful of the batter and spread evenly.
5. Apply oil around the edges and cook on both sides for a minute or two.
6. Remove and serve at once.
Note: For a regular egg variation, break 2 large eggs at step 1 and omit the flours.
Image above is the egg variation.