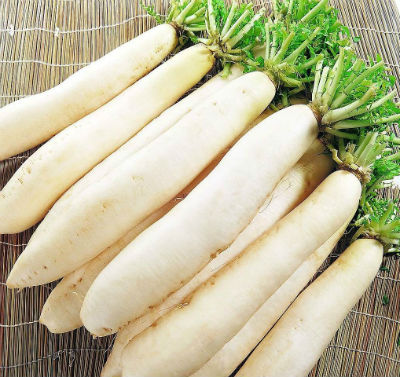 Ingredients:
White Radish – 4, peeled, cubed
Tomato – 2, chopped
Toor Dal – 1 cup, washed
Tamarind Extract – 3/4 cup to 1 cup
Sambar Powder – 2 tblsp
Turmeric Powder – 1/2 tsp
Salt – 2 tsp
For seasoning:
Oil – 4 tsp
Mustard Seeds – 1 tsp
Asafoetida Powder – a pinch
Curry Leaves – few, chopped
Small Onions – 8, cut lengthwise
Method:
1. Pressure cook the dal with a pinch of turmeric powder.
2. Heat a pan over medium flame.
3. Add the radish pieces and pour enough water to cover it.
4. Add tomatoes, sambar powder, salt and cook till the radish becomes soft.
5. Add the tamarind extract and bring to a boil.
6. Mash the cooked dal and add to the pan.
7. Mix well and boil for few minutes.
8. Heat oil in a small frying pan.
9. Fry th mustard seeds, curry leaves, asafoetida and small onions till onions turn light golden brown.
10. Add this to the sambar and stir well.
11. Simmer for a minute and remove.
12. Serve hot with rice.