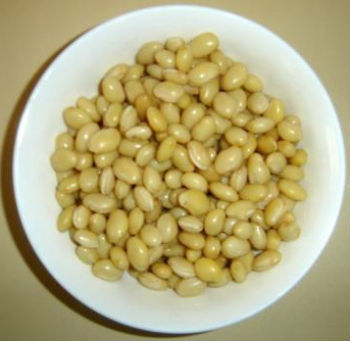 Ingredients:
Mochai Kottai (Field Beans) – 100 gms, peeled
Sambar Powder – 4 tsp
Moong Dal – 1 cup
Tamarind Extract – 1 cup
Mustard Seeds – 1/2 tsp
Urad Dal – 1/2 tsp
Fenugreek Seeds – 1/2 tsp
Dry Red Chilli – 1
Coconut Milk – 1/4 cup
Oil as required
Salt as per taste
Method:
1. Cook the moong dal till mushy.
2. Heat oil in a pan.
3. Add the mochai and stir-fry for a minute or two.
4. In another pan, heat the tamarind extract over moderate flame.
5. Add the mochai kottai, sambar powder and salt.
6. Bring to a boil.
7. Add moong dal and stir.
8. In a small frying pan, heat 1/2 tsp oil.
9. Fry the urad dal, mustard seeds, fenugreek seeds, dry red chilli and pour into the kuzhambu.
10. Add the coconut milk and simmer for a minute.
11. Remove and serve hot.
Note: image is for illustration purposes only and not that of the actual recipe.