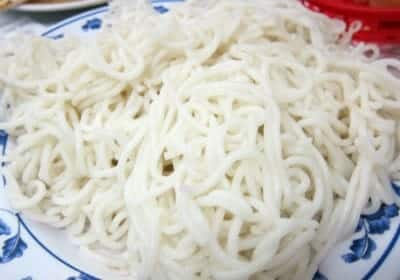 Ingredients:
Plain Noodles – 2 cups
Onions – 1/3 cup, finely chopped
Carrots – 1/3 cup, finely chopped
Beans – 1/3 cup, finely chopped
Lemon Juice – 1 tblsp
COriander Leaves – handful, chopped
Oil  – 4 tblsp
Salt as per taste
To grind:
Coconut – 1/4 cup, grated
Green Chillies – 2
Ginger – a small piece
Saunf – 1 tsp
Dried Fenugreek Leaves (Kasuri Methi) – 3 tblsp
Method:
1. Grind the coconut, green chillies, ginger, saunf and fenugreek leaves to a smooth paste.
2. Heat oil in a pan.
3. Saute the onions, carrots and beans for a minute or two.
4. Add the noodles and mix well.
5. Pour 3/4 cup of water and salt.
6. Cook for 2 minutes and add the ground paste.
7. Bring to a boil.
8. Add the lemon juice and mix again.
9. Garnish with coriander leaves.
10. Serve hot.
image via flickr: https://www.flickr.com/photos/guzzleandnosh/5354753887/