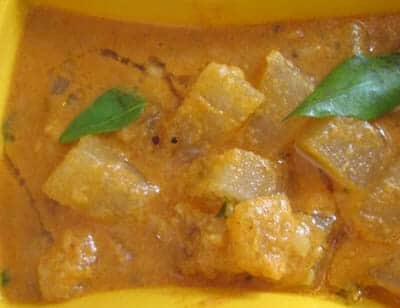 Ingredients:
White Pumpkin – 1 tblsp, chopped
Toor Dal – 2 tblsp, boiled
Turmeric Powder -1/2 tsp
Sambar Powder – 2 tsp
Peanuts – 2 tsp, boiled
Tamarind Extract – 1 cup
Salt as per taste
Oil as required
To Grind:
Urad Dal – 2 tsp
Coriander Seeds – 2 tsp
Coconut – 2 tsp, grated
Dry Red Chillies – 2
For Tempering:
Mustard Seeds – 1 tsp
Curry Leaves – few
Method:
1. Heat little oil in a frying pan.
2. Add the ingredients to grind and fry for a minute.
3. Remove and grind to a smooth powder.
4. Heat the tamarind extract over medium flame.
5. Add salt, turmeric powder, sambar powder and pumpkin.
6. Bring to a boil.
7. Add the boiled dal, peanuts and ground masala.
8. Bring to a boil again.
9. Fry the tempering ingredints in little oil and add to the sambar.
10. Serve hot.