South Indian sambar with green banana. Serve hot with cooked rice and side dish of choice.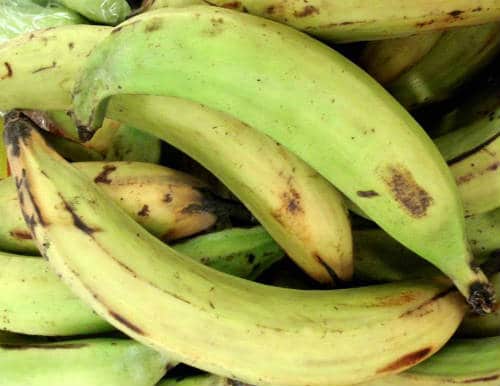 Ingredients:
Vazhakkai (Raw Banana) – 1, sliced
Sambar Onions (Shallots) – 5 to 6, chopped
Toor Dal – 1/4 cup, boiled
Tamarind Extract – 3/4 to 1 cup
Sambar Powder – 2 tblsp
Asafoetida Powder – 1/2 tsp
Turmeric Powder – a pinch
Mustard Seeds – 1/2 tsp
Dry Red Chillies – 2
Curry Leaves – few
Coriander Leaves – few
Oil – 3 to 4 tblsp
Salt as per taste
Method:
1. Heat a pan over medium flame.
2. Pour the tamarind extract.
3. Add salt, turmeric powder, sambar powder and bring to a boil.
4. In a separate frying pan, saute the vazhakkai pieces and sambar onions for a minute.
5. Add to the pan and mix well.
6. Simmer until tender.
7. Add the cooked dal and bring to a boil again.
8. Add some water if required or too thick.
9. Fry the mustard seeds, curry leaves and asafoetida powder in a little oil and add to the pan.
10. Garnish with coriander leaves.
11. Serve hot with rice.