Papaya is an amazing fruit with loads of benefits. It is extremely delicious and often called the 'fruit of angels'. It is an affordable and effective remedy for a variety of problems and issues. Using it on a regular basis keeps you healthy, gives you the nutrition required, and also keeps you fresh and lively. Read on to know how it can benefit you.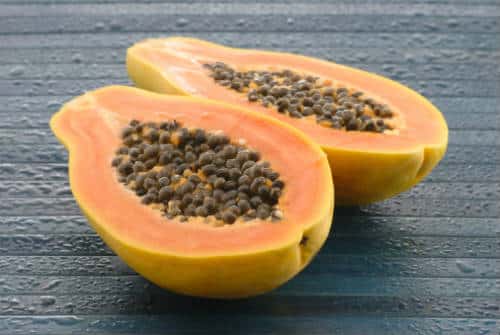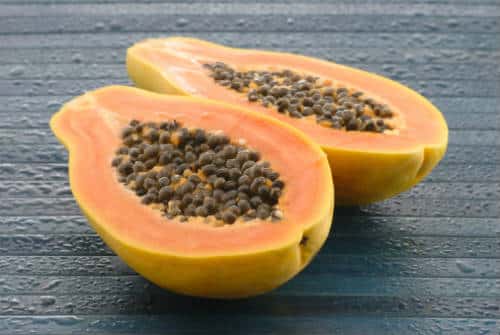 Benefits of Papaya
Gives a glow to your skin – Papaya fights effectively against acne, pimples and other types of skin infections. It opens the pores in your akin. It is used extensively in face packs and cosmetics. Fresh papayas have the ability to dissolve dead cells. This gives you a perfectly glowing skin. It protects you against skin infections and wounds.
Helps in proper digestion – Papayas are rich in a number of digestive enzymes. These enzymes digest proteins by breaking down the protein content. It is in the unripe state that you mostly find the enzyme that helps in digestion.
Papayas contain digestive supplements and it is used in chewing gums. In case you are suffering from an upset stomach, have a papaya. That will make you feel better.
The leaves help increase your appetite and cure menstrual pain – Use blended papaya leaves in lukewarm water. This will increase your appetite. Women can use papaya to ease menstrual pain and cramps. Take papaya leaves, tamarind and salt along with water. This prevents frequent pain that women face during the menstrual cycle.
Helps heal wounds and prevents from blood clots – Papaya contains an enzyme called fibrin, which is also contained in animal and human body. This enzyme helps in proper digestion and even prevents clotting of blood. Moreover, you can also use it as a healing reagent for both internal and external wounds.
It controls bowel movements – The papaya fruit and its seeds have got anti-amoebic and anti-parasitic characters. This controls bowel movement. Indigestion, constipation, acid reflux, heart burn, irritable bowel syndrome, stomach ulcers, gastric problems and other such diseases are cured effectively by this fruit.
It has got anti-cancer properties – Papaya has got flavonoid contents which act as antioxidants for your body. This helps cure cancer. Beta carotene, lutein, zeaxanthin, and cryptoxanthin are a few examples that are important for curing cancerous diseases. Papaya has got an anti-proliferative effect on liver cancer cells. As such, it helps to stop or slow down the growth of cancer cells of the liver. It also helps cure these cancers.
It protects your heart – Fresh papaya is rich in potassium. This helps to regulate cell body fluids. Papayas are effective in controlling the flow of blood. This helps maintain the proper blood pressure. Moreover, it also regulates the effects of sodium in the body. In short, it protects your heart from all kinds of diseases. Doctors suggest papayas for heart patients, as they have enough nutritional benefits for them.
Very effective for weight loss treatment – Papayas contain a low amount of calories. But, the content of vitamin, essential nutrients and minerals is quite high. This helps a lot in giving your body the perfect diet for a healthy body.
Papayas are rich in Vitamin C, E and A, and folate. It gives just 39 calories per 100 grams. A large number of antioxidants are contained in it that helps burn down calories and deposits of extra fat in the body. With papaya, you could make a healthy and nutritious breakfast. In salads and juices they taste awesome also. Papaya cocktails, too, have immense benefits.
Papayas are natural medicine – Papayas cure a large number of diseases and infections. They help maintain good health. Even the seeds have health benefits. They kill ring worms in the stomach. Papaya leaves have the capacity to cure fever, dengue, skin diseases and lots more.
Prevents cholesterol – Papayas contain lots of fiber, which helps lower blood cholesterol. Enzymes in papaya prevent cholesterol from oxidizing, and this prevents heart attacks.
Good anti-ageing agent – Papaya contains antioxidants that keep you looking younger for long. They control premature ageing and give your skin a fresh and young look.
Treats intestinal worms and constipation – Papaya seeds have the unique property to treat worms in the intestine. Moreover, papaya also treats constipation and helps digestion. Papain is a digestive enzyme in papaya that helps natural digestion.
Good for the colon – Papaya juice helps in clearing the pus and mucus from the colon. As such, it treats all kinds of infections of the colon. For quick healing, you need to consume it every day till you get better.
Cures nausea and morning sickness – Pregnant ladies generally experience a sort of nausea and morning sickness. By consuming a small piece of papaya every day, this can be cured.
Relieves pain due to osteoporosis – Papaya is rich in anti-inflammatory enzymes. They help in giving relief to those who are suffering from arthritis, osteoporosis and edema. The anti-cancerous properties of papaya also help in preventing cancer.
Good for immunity – Papaya contains large amounts of Vitamin A and Vitamin C. They help in boosting the immunity. As such, it is very useful for people suffering from fever, flu or cold.
Controls dandruff – Shampoos which have papaya content are really effective in controlling dandruff. You need to use them regularly and continue for a while to see long term results.
Contraception – Researches were done on adult male langur monkeys, and they showed the contraceptive capability of papayas. It could have the same effect even in adult male humans too.
Kidney disorder – The aqueous seed extract of unripe mature fruits of papaya helps in inducing antioxidant and oxidative free radical scavenging in poison related kidney disorders. It also helps the kidney to recover.
Dengue treatment – The juice obtained from the papaya leaves effectively help in treating dengue fever. Researches have proven this. The extract from the papaya leaves increase the platelet count, called thrombocytes, in patients suffering from dengue fever.