Mocktails are non-alcoholic drinks that can add a zing to a party. They can be soothingly refreshing and healthy. You can prepare most of them before hand and pour them in huge bowls.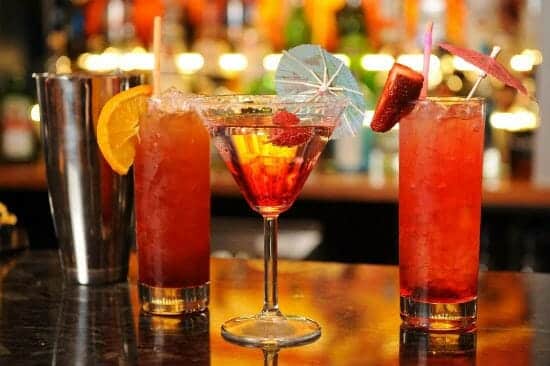 Here are some mocktails that are easy to prepare and that your guests would definitely enjoy.
Fruit Punch: This is the easiest of the lot to prepare. All you need are various juices, and finely chopped seasonal fruits. You will need to combine juices, such as orange, cranberry, pineapple and any other fruit juice that you have. To this add finely diced fruit, like apples, pears, strawberries, peaches, guavas etcetera. Squeeze a few limes to the liquid, drop in some ice cubes and a dash of Tabasco sauce and the drink is ready.
Fruit Punch With a Zing: For this you will need to make the fruit punch as above and add different flavored aerated drinks to it just before serving.
Afterglow: A wonderfully healthy and light drink that is simple to prepare. Mix orange juice, pineapple juice and Grenadine in the ratio of 4:4:1. Top it with ice, and you are ready to serve it.
Moonlight: This mocktail is more like a shake. You will require one cup milk to which you will need to add mango pulp, a sprig of mint and sugar to taste and lots of ice. Put all the ingredients in a blender and run it until all ingredients are homogenized. Garnish with mint leaves and serve. Ensure the consistency is not too thick.
Pink Heaven: This is a wonderful virgin drink made from fresh strawberries. Blend strawberries and a sprig of mint leaves in a blender into a smooth paste. Add a dash of lime juice, a small pinch of salt, a pinch of white pepper and a dash of Worcestershire sauce to the mix. Take a tall glass and fill it a little more than half with the mixture, top it with club soda and serve.
Atomic Cat: Another great drink to serve at a party. You will need equal amounts of orange juice and tonic water. Pour the two liquids in a cocktail shaker and give them a good shake. Pour the mixture on the rocks.
Fresh Lime Soda: One of the most common virgin drinks served at cocktail parties. This is a simple drink to make. You will need juice of a lime/lemon and either sugar or salt according to preference in a glass. Top it with chilled club soda, garnish with mint leaves and serve.
Morning Star: This is a healthy and tasty drink that you can serve at your party. You will need to put 1tsp honey, 1tsp sugar, a few pieces of pineapple bits, ¾ glass pineapple juices and ¼ glass mineral water in a cocktail shaker. Mix the ingredients well and pour into a cocktail glass. Place a vanilla stick along the side of the glass and serve.
Darjeeling Delight: The Darjeeling delight is an excellent antioxidant drink, which your guests will love. To prepare one glass take two tea bags and let them sit in a glass of hot water. Once the essence and flavors of the tea have transferred into the water, remove the tea bags and chill the liquid. Before serving squeeze in half a lime and add sugar to taste. Serve!
Hurricane: You will need the following ingredients in the ratio of 4:4:2:2; orange juice, cranberry juice, apple juice and grapefruit juice. Just blend the juices in a blender and the drink is ready for your guests.
Virgin Mary: This is a non alcoholic version of the Bloody Mary. Mix together 4 parts of tomato juice with a few drops of Tabasco sauce, a dash of lime, Worcestershire sauce and a pinch of salt. Use celery sticks to garnish the drink and you are ready to go.
Piña Colada: Piña Colada is yet another delicious mocktail that you can serve your guests. Take pineapple juice and coconut cream in the ratio of 6:2. Blend the two together and serve in a glass filled with crushed ice.
Shirley Temple: Take 4parts of ginger ale or lime soda and ½ part Grenadine syrup. Mix them together. Add ice and serve garnished with an orange slice and lemon zest.
Scarlett O'Hara: To equal amounts of orange juice and ginger beer add a dash of Worcestershire sauce and a pinch of cayenne pepper. Mix well and serve immediately.
Baby Orange Fizz: Pour 5 parts of orange juice and 1 part sweet and sour in a glass. Top it with club soda and let your guests enjoy its refreshing taste.
Non Alcoholic Mojito: For making the Mojito you will require 1½ ounces club soda, 3 dashes Angostura bitters, juice of two lemons, 2 tsp sugar and mint leaves. Mix all the ingredients and cheat your friends with this healthier version of the famous drink.
Mai Tai: This is a unique drink made from equal quantities of orange juice, almond syrup, lime juice and sour mix. Mix and strain the drink garnish and serve.
Twister: Apple juice to which fresh lime is squeezed is served with a tsp of Worcestershire sauce stirred into it.
Heaven on Earth: A wonderful drink made from water melon juice, to which is added chopped mint leaves, lime juice and a pinch of salt.
Peach Tonic: This drink is made with tea bags. Steep tea bags in hot water, cool and chill the liquid. Add sugar to the liquid. For serving fill ¼ of a glass with the tea and top it with chilled peach juice. Throw in some crushed ice and serve.