Legiyam is a traditional South Indian herbal medicine often given as an antidote to digestive problems. This one is made with Omam (Ajwain) and is given to increase the appetite especially of young children.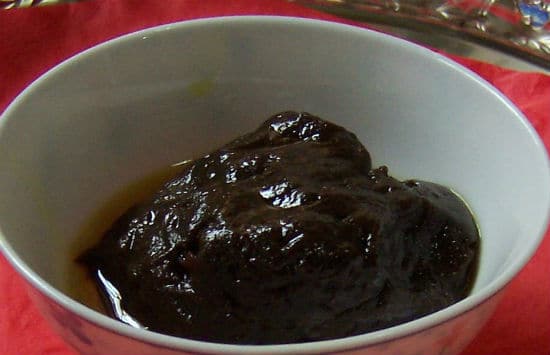 Ingredients:
Omam (Ajwain) – 100 gms
Black Peppercorns – 40 gms
Sukku (Dry Ginger) – 1 inch piece
Arisi Thippili (Fruits of Long Pepper) – 40
Kanda Thippili (Roots of Long Pepper) – 40 gms
Virali Manjal (Whole Turmeric) – 1 inch piece
Chitharathai (Lesser Galangal) – 1 inch piece
Jaggery – 600 gms
Ghee – 400 ml
Method:
1. Dry roast the omam, peppercorns, ginger, arisi thippili, kanda thippili, chitharathai and turmeric separately.
2. Combine them together and grind to a fine powder.
3. Add enough water to jaggery and place it over medium flame.
4. Keep stirring until all jaggery has fully dissolved.
5. Strain this mixture and keep it back on the flame until it starts to thicken.
6. Add the ground powder and ghee.
7. Stir to mix well.
8. Switch off the flame.
9. When it is cool enough to handle, transfer to an airtight container.
10. Use as required.