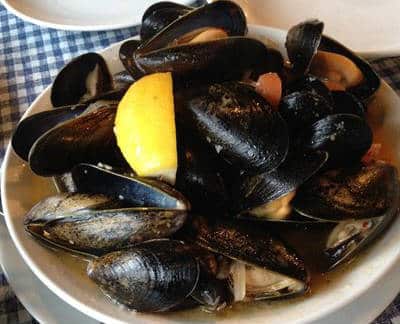 Ingredients:
Black Mussels – 500 gms
Ghee – 2 tblsp
Onion – 1, large, finely chopped
Garlic – 2 cloves, finely chopped
Ginger – 2 tsp, finely chopped
Red Chillies – 2, seeds removed, chopped
Turmeric Powder – 1/4 tsp
Coriander Powder – 1 to 2 tsp
Red Chilli Powder – a small pinch
Coriander Leaves – 2 tsp
Lemon Juice as per taste
Salt as per taste
Method:
1. Heat ghee in a pan over medium flame.
2. Saute the onions, ginger and garlic for a few minutes or until onions turn golden.
3. Add the red chillies, turmeric powder, coriander powder and red chilli powder.
4. Stir well and add a pinch of water.
5. Pour 1/2 cup of water and cover with a lid.
6. Simmer over low flame for 3 to 4 minutes.
7. Add the mussels and cover with the lid.
8. Simmer for another 10 minutes or until the shells have opened.
9. Remove from flame.
10. Garnish with coriander leaves.
11. Sprinkle lemon juice on top and serve in individual serving bowls.
image via yelp