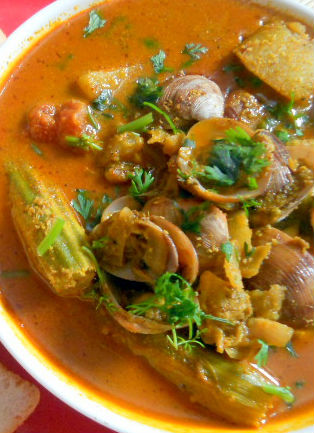 Ingredients:
Mussels – 15, washed and scrubbed well
Green Mango – 1/2, sliced
Red Chilli Powder – 1/2 tblsp
Turmeric Powder – 1/8 tsp
Salt as per taste
For coconut paste:
Oil – 1/2 tblsp
Coconut – 1/4, grated
Small Onions – 2, chopped
Coriander Powder – 1 1/4 tblsp
For tempering:
Oil – 1/2 tblsp
Mustard Seeds – 1/2 tsp
Small Onion – 1, chopped
Curry Leaves – few
Method:
1. Scrape off the filaments and poisonous beards at the joints of the shell.
2. Heat a pan with enough water to cover the mussels.
3. Boil for 15 to 30 minutes.
4. Discard the shells and rinse the mussels in fresh water.
5. Drain and keep aside.
6. Heat oil for coconut paste in a pan.
7. Fry the coconut and onions till brown.
8. Reduce flame and add coriander powder.
9. Fry for a minute more and grind to a fine paste with 1/3 cup of water.
10. Add the mussels with mango pieces, red chilli powder, turmeric powder, salt and 3/4 cup of water in a pan.
11. Cook over low heat for 5 to 10 minutes.
12. Add the coconut paste and bring to a boil.
13. Reduce heat and cook till gravy thickens.
14. Remove from heat and keep aside.
15. Fry the tempering ingredients in a pan and pour into the curry.
16. Mix gently and serve hot with rice.
Note: image is for illustration purposes only and not that of the actual recipe.
Image credit: flavors of mumbai