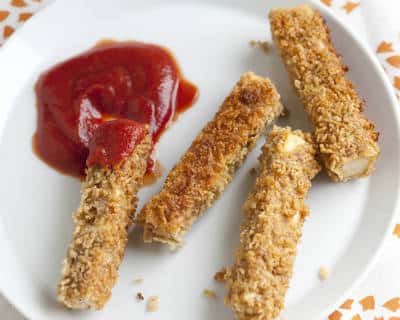 Ingredients:
Extra-Firm Tofu – 450 gms, cut into 1 inch fingers
Corn Flour – 1/4 cup
Soya Milk (or Regular Milk) – 1/2 cup
Breadcrumbs – 1 cup
Maida – 2 tblsp
Red Chilli Powder – 1/4 tsp
Garam Masala Powder – 1/4 tsp
Chaat Masala Powder – 1/4 tsp
Ginger Powder – a pinch
Black Pepper Powder – a pinch
Salt as per taste (optional)
Oil as required
Method:
1. Mix the soya milk and corn flour in a bowl.
2. In another bowl, mix the breadcrumbs, red chilli powder, garam masala powder, chaat masala powder, ginger powder, pepper powder and salt (if using).
3. Dip the tofu fingers in the corn batter and then in the breadcrumbs.
4. Ensure the tofu fingers are coated evenly.
5. Heat oil in a shallow pan over medium flame.
6. Fry the tofu fingers until golden brown and crispy, about 5 to 10 minutes.
7. Remove and transfer to a serving plate.
8. Serve with sauce or mint chutney.
Tip: If using firm tofu, squeeze dry any excess moisture.