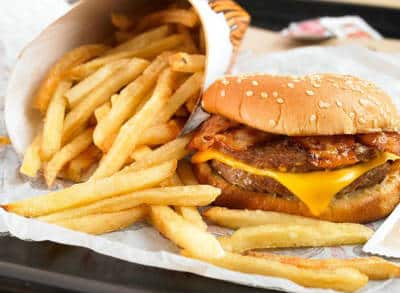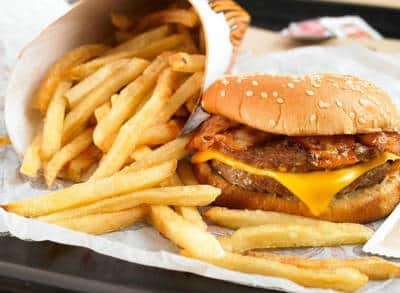 Ingredients:
Minced Beef – 400 gms
Worcestershire Sauce – 1 tblsp
Tomato Puree – 3 tsp, thick
Mustard Powder – 1 tsp
Garlic – 1 clove, crushed
Extra-Virgin Olive Oil – 2 tsp + extra for brushing
Cheddar Cheese – 2 slices
Burger Buns – 2, halved
Lettuce
Tomato Slices
Sea Salt as per taste
Black Pepper Powder as per taste
Mayonnaise
To serve:
Dill Pickles – 2, halved
Tomato Ketchup
French Fries
Method:
1. Mix the beef mince, worcestershire sauce, garlic, tomato puree, mustard powder, salt and black pepper powder in a bowl.
2. Divide this mixture into 4 equal portions and flatten them into patties.
3. Heat olive oil in a non-stick frying pan.
4. Brush the burger patties with olive oil and cook for 2 minutes on each side or until lightly golden and cooked.
5. Remove and place it on one half of the burger bun.
6. Place a cheese slice on top and cover with another pattie.
7. Top up the pattie with lettuce and tomato slices.
9. Spread mayonnaise on the other half of the bun and cover the burger.
10. Serve with french fries, dill pickles and tomato ketchup.