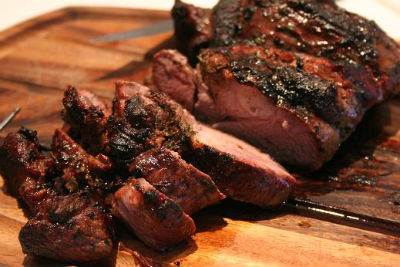 Ingredients:
Lamb Fillets – 500 gms, cut into long strips
Cumin Powder – 1/2 tblsp
Sweet Paprika – 1/2 tblsp
Garlic – 1 tblsp, finely chopped
Coriander Leaves – 1/2 tblsp, chopped
Parsley – 1/2 tblsp, chopped
Lemon Juice – 1/2 tblsp
Olive Oil as required
Salt as per taste

For the Mint Yogurt:
Plain Yogurt – 1/2 cup
Sugar – a large pinch
Mint Leaves – 1 1/2 tsp, chopped

Method:
1. Combine all the ingredients for mint yogurt in a blender.
2. Blend well and transfer to a fridge until required.
3. In a large bowl mix all the ingredients with lamb fillets.
4. Cover with clingfilm and marinate for 1 hour in the fridge.
5. Remove the lamb from the fridge and barbecue in a grill to medium-rare.
6. Serve hot with the mint yogurt.
Note: image is for illustration purposes only and not that of the actual recipe.