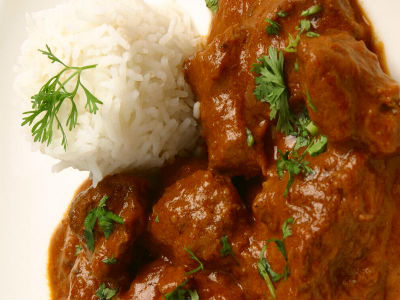 Ingredients:
Boned Shoulder of Lamb – 500 gms, cubed
Ghee – 1/4 cup
Cumin Seeds – 3/4 tsp
Green Cardamom – 2 to 3
Black Cardamom – 2
Cloves – 4 to 5
Bay Leaf – 1
Water – 1 1/2 cups
Sweet Corn – 225 gms, canned, drained and coarsely chopped
Lemon Juice – 5 tblsp
Coriander Leaves – 1 tblsp, chopped
For the marinade:
Plain Yogurt – 150 gms
Coriander Powder – 1 tsp
Turmeric Powder – 1/2 tsp
Salt – 1 tsp
Grind to a paste:
Onions – 100 gms, finely chopped
Garlic – 5 to 6 cloves, finely chopped
Green Chillies – 5 to 6
Method:
1. Mix all the marinade ingredients in a bowl.
2. Add the lamb pieces and mix well to coat evenly.
3. Keep aside for 15 minutes to marinate.
4. Heat ghee in a heavy-bottomed pan over moderate heat.
5. Add the cumin seeds, green cardamom, black cardamom, cloves and bay leaf.
6. Fry for a minute and add the marinated lamb pieces.
7. Increase the heat to high and cook for 8 to 12 minutes or until all moisture has evaporated.
8. Stir constantly.
9. Add the ground onion paste and cook for 8 to 10 minutes more.
10. Keep stirring so that the paste does not stick to the pan and burn.
11. Pour the water and reduce heat.
12. Simmer for 20 to 30 minutes or until the lamb is 85% cooked.
13. Now add the sweet corn and cook for 8 to 10 minutes.
14. Cook till the consistency is glossy.
15. Remove and transfer to a serving dish.
16. Add the lemon juice and stir.
17. Garnish with coriander leaves.
18. Serve hot with rice or chapati.
Note: image is for illustration purposes only and not that of the actual recipe.