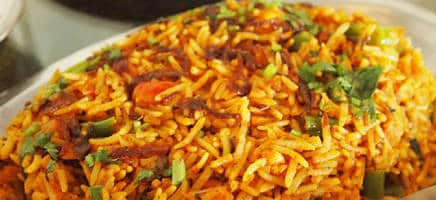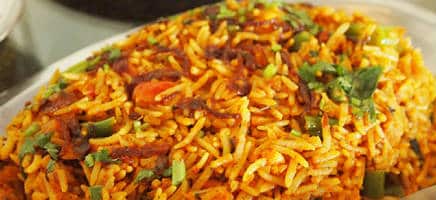 Ingredients:
Basmati Rice – 1 cup
Thick Curd – 1 cup
Onions – 2, chopped
Juice of 1 Lemon
Garlic – 10 cloves
Potatoes – 1/2 cup, cubed
Carrot – 1/2 cup, cubed
Chow Chow (Bangalore Kathirikai) – 1/2 cup, cubed
Ginger Garlic Paste – 1 tblsp
Ghee – 1 tblsp
Coriander Leaves – 1 tblsp, finely chopped
Mint Leaves – 2 tblsp
Grind together:
Coriander Leaves – 1/4 bunch
Sambar Onions (Shallots) – 10
Ginger – 1/2 inch piece, peeled
Cinnamon – 1/2 inch stick
Cardamoms – 2
Cloves – 3
Cashewnuts – 1 tblsp
Method:
1. Soak the rice for 10 minutes and drain well.
2. Heat little ghee in a pan.
3. Fry the rice for 30 to 40 seconds.
4. Heat little ghee in a pressure pan.
5. Saute the garlic and onions till golden.
6. Add ground paste, ginger garlic paste, potatoes, carrot, chow chow and salt.
7. Saute well for 2 minutes.
8. Add the curd and pour 2 cups of water.
9. Bring to a boil.
10. Add the rice to the pan and pressure cook for 10 minutes.
11. Remove from flame.
12. Add lemon juice and mix well.
13. Garnish with mint leaves and coriander leaves.
14. Serve hot.