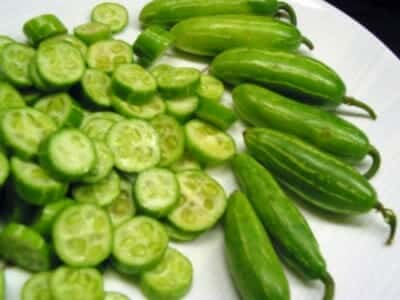 Ingredients:
Vazhathandu (Banana Stem) – 1 cup, cleaned, fibres removed, chopped
Kovakkai (Ivy Gourd / Tindora) – 1/2 cup, chopped
Coconut – 4 tblsp, grated
Tamarind – a small ball, seedless
Sambar Powder – 1 1/2 tsp
Cumin Seeds – 1/4 tssp
Mustard Seeds – little
Urad Dal – little
Bengal Gram Dal – little
Toor Dal – 100 gms, cooked
Salt as per taste
Oil as required
Coriander Leaves – few
Asafoetida Powder – a pinch
Method:
1. Heat little oil in a pan.
2. Fry the urad dal, cumin seeds, bengal gram dal and mustard seeds for 20 to 30 seconds.
3. Add the vazhathandu and kovakkai pieces.
4. Saute well for a minute or two.
5. Grind the coconut, sambar powder, tamarind and asafoetida powder with little water.
6. Add to the pan and stir well.
7. Add salt and bring to a boil.
8. Add the cooked dal and mix well.
9. Garnish with coriander leaves.
10. Serve hot with rice.